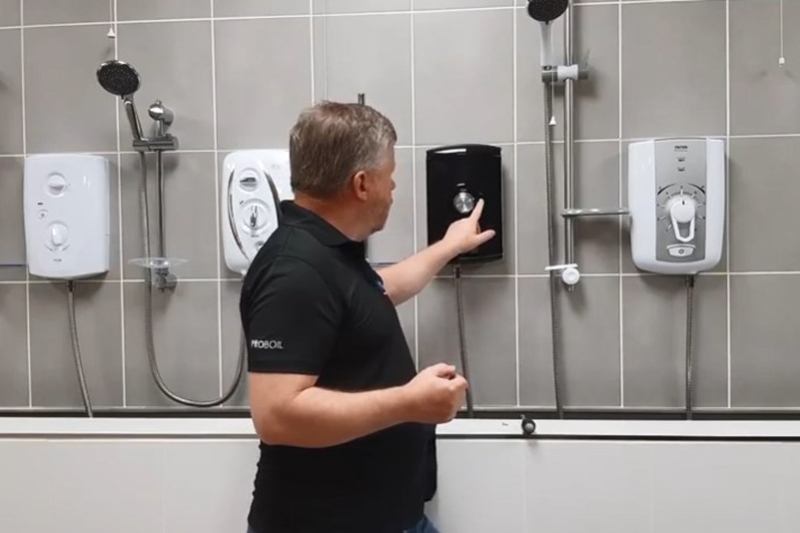 Paul Rowley, Approvals and Training Manager at Triton, explains how to solve a commonly asked question about the company's products.
Digital Mixer Shower: How do I change a Triton HOST controller from display to product mode?
The Triton Host is digital, so the control and mixer box are separate to the unit itself. It's not unusual for Triton to receive a call from a customer who has accidentally switched their controller to display mode. This setting is often used in a bathroom showroom environment for demonstration purposes, when no water supply is connected. Here's how to resolve this:
Step one: Turn the unit on. In normal mode this would cause water to come out of the spray head. However, in display mode the word display can be seen flashing at the top of the screen. While it's possible to adjust the temperature using the normal functions, no water will flow. Therefore, the software needs to be changed back to product mode.
Step two: To achieve this, hold the on button and the flow down button together for a few seconds until the option of product or display is shown. Select the single circle for product mode. Then turn the power off for a few seconds to allow it to reset before turning it back on. If the unit doesn't enter commissioning mode then turn the power off to the unit for 30 seconds to allow it to reset before turning it back on.
Step three: The settings will have now gone back into commissioning mode. As the screen instructs, press the on button until water is flowing. This won't be at full capacity just yet, so don't be alarmed. Then press the double circle button for five seconds, which will cause the screen to clear and the water will stop.
Step four: Press the on button and the water should now be at maximum flow. It's then possible to adjust the flow and temperature using the controls. When adjusting the temperature, the reading will flash on the screen until it has reached the desired level.