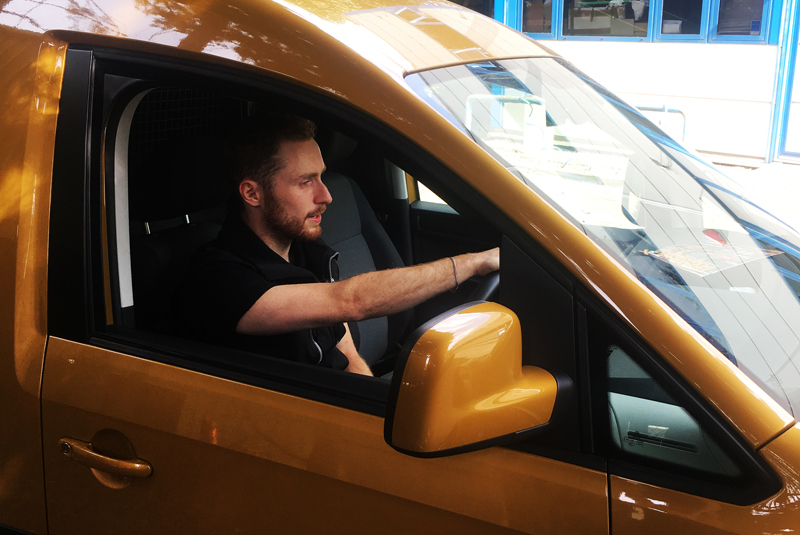 PHPI goes on the road with Volkswagen Commercial Vehicles, as we drive over the canals of Amsterdam and through the streets of London in two of the manufacturer's most popular models.
If you've ever been to the Dutch capital, you'll know that walking around the busy streets can be an ordeal in itself. Bikes very much hold sway in Amsterdam, while the city's network of canals ensures a tricky navigational exercise for anyone looking to find their way around the city.
Fortunately, this is nothing that the latest incarnation of Volkswagen's Transporter panel van can't handle. In the new T6.1 model we worked our way from the Heineken factory (we promise there was no stopping in), to the De Gooyer Windmill, all the way to the local beach – not exactly what Amsterdam is known for, but we weren't complaining.
The panel van, which has come a long way since the first edition was introduced way back in 1950, handled all of this with ease. For the city centre in particular, its noticeably light steering made the job of avoiding hordes of cyclists fairly straightforward, while the six speed 150 PS version we tested was a breeze on a brief motorway excursion – even with half a tonne of weight in the back. We must admit, the five-speed manual 110 PS was a little noisy in lower gears, but this was only in comparison to the peace and quiet of the six-speed.
As far as updates to previous editions go, the exterior certainly shows off a new, sportier look. The redesigned front bumper and radiator grille provide a 'refreshed' aesthetic, as well as offering a larger support frame to reduce vibrations. Inside the cab, there's a dashboard with three different infotainment systems available: Composition (as standard), Discover Media with sat nav and Discover Pro, which has a 9.2-inch touchscreen to ensure you really can see where you're going. The usual array of cup holders are there for your morning brew, while there's the option of a fold-down table for the middle seat to finish off paperwork on.
Perhaps the biggest update is the raft of new assistance systems VW has introduced. Safety is an ever-increasing concern for road users, and your insurance company should be pleased to hear the number of features now available for purchasers. The new standard electro-mechanical steering system allows for lane assist, driver steering recommendation and front assist with city emergency braking as standard, while optional extras include park assist for semi-autonomous parking; cross wind assist; rear traffic alert; a reversing camera; trailer assist and a side protection system.
The 2.0 turbo diesel engine is available in a range of drive systems, starting at 90 PS up to a 199 PS 7-speed DSG 4MOTION option. Though we doubt many plumbers will need to venture to such a high-spec, the option is at least there. As we found out, city driving is no issue for the T6.1, while it also complies with Euro 6 emission standards for those looking to avoid additional charges. Four-wheel drive options are available, but the van comes in front-wheel drive is standard.
If you were wondering what lengths of copper you can fit in, the standard wheelbase measures in at 3m, with a variable compartment length of 2.45 to 2.8m, thanks to a new under-seat loading function. If you're in regular need of more space, the longer 3.4m wheelbase option may be one to think about, which allows up to 3.3m worth of storage capacity.
At the launch event, VW described the T6.1 as "like an update for your smart phone", but for those who don't already own a T6, it'll likely prove to be much more than that. Perhaps this is no better demonstrated by the USB C connection ports found within the cab. While this was no good for us, with a phone that is now long past its retirement date, VW assures us that this is where technology is headed, with all major manufacturers (other than Apple, as usual) introducing the charging technology into their new models. There is of course the usual cigarette lighter charging option, so don't fret, but the new safety-conscious and connected Transporter is clearly looking to cater for the future. And, with prices starting at £21,635 (excl. VAT), it may well be time to upgrade.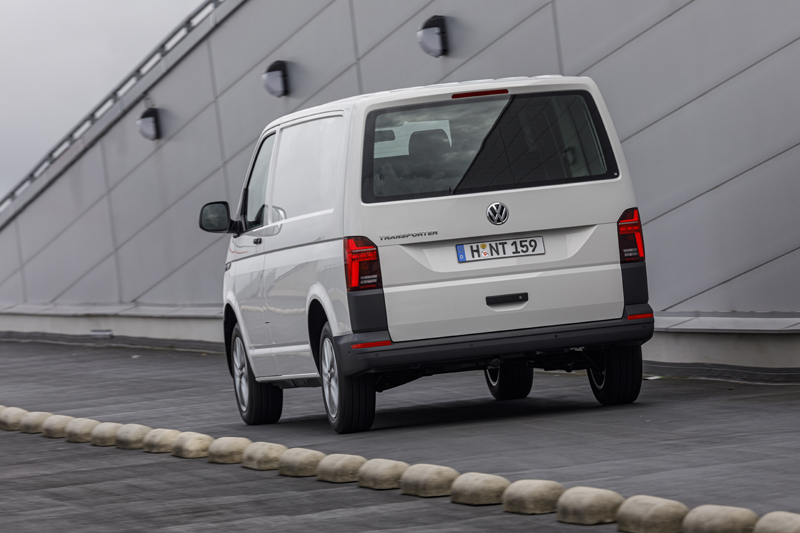 A lighter option
For those who don't necessarily need the space of a panel van, VW's smaller option comes in the form of the Caddy. While we didn't have to quite traverse this through a sea of bikes, there's always the small matter of London's increasingly congested roads to navigate. Again, the Caddy survived with no issues.
To be totally honest, other than a lack of seats in the back, it was no different from driving a car. Much like the Transporter, the steering is light, making it easy to manoeuvre into tight spots or tricky customer driveways, while it pulls away nicely on the motorway. And once again, it features a 2.0-litre Turbo Diesel Euro 6 engine.
Our payload stood at 645kg, though higher options are available up to 736kg for the Maxi version, while the standard version's load length comes in at just over 1.2m with a 3.2m2 overall load area volume. As a vehicle option that'll likely be more popular with servicing engineers, this should allow plenty of space for tools, equipment and spares. A near-side sliding door and rear doors make for easy access and there's even an option to include an additional off-side sliding door, if you're the messy type.
Three trims are available – Startline, Trendline and Highline – with the latter offering everything from a 6.33-inch touchscreen display, to cruise control with speed limiter, to climatic air conditioning. While our 'Sandstorm Yellow' test vehicle perhaps isn't the colour we'd opt for, there are nine other colour options to choose from, including the classic 'Candy White'. Prices for the standard Caddy start at £19,370 (excl. VAT).