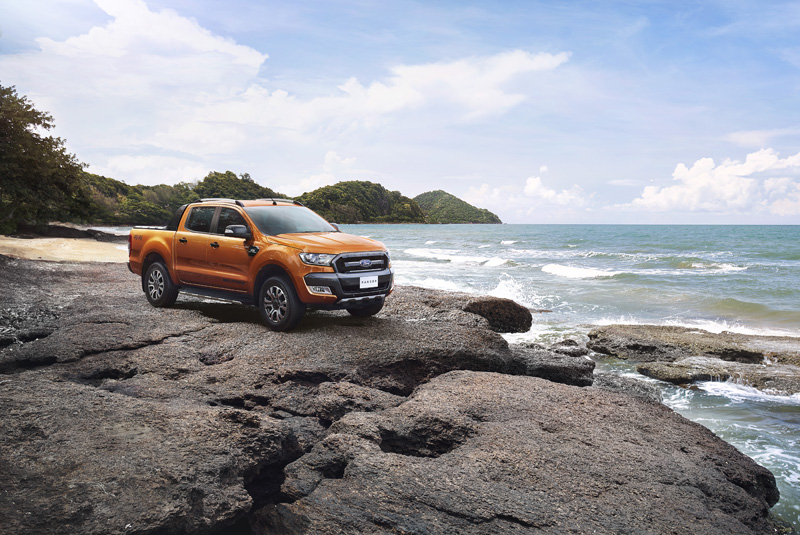 Terry Smith rides into tomorrow today with the new look Ford Ranger.
Launched in 2011 and already established as the bestselling 4×4 pick-up in Europe, the Ranger is now delivering some particularly impressive sales figures for Ford in the UK, with the start of 2016 seeing it secure pole position in this arena as well. Whether it will still hold sway by the end of the year remains to be seen, particularly given the considerable pressure it will come under following the recent launch of highly impressive vehicles from Nissan and Mitsubishi and the likely introduction later this year of new models from the likes of both Toyota and VAG. An updated Isuzu D max and first time entrants to this market in the shape of Fiat and Renault are also on the horizon, so the decision to pre-empt these moves with a revised Ranger would appear a particularly astute decision.
Most obvious in facelift terms are the grille and headlights mirroring the latest Ford cars, and an interior upgrade to meet the ever narrowing gap between pick- ups and upmarket passenger vehicles. Of course, there is a price to pay for all this enhanced styling and technical wizardry but the days are long gone when the cab was more likely to need a good hosing down than the actual bodywork, given today's emphasis on meeting both work and lifestyle requirements.
And in this respect the Ranger is not found wanting. It covers all the pick-up truck bases with three body styles – single cab, extended cab and full size double cab. There are both two-wheel and four-wheel drive versions, manual and automatic transmissions plus a choice of two diesel engines. Most models come with the four cylinder 160bhp 2.2 litre TDCi but there is the option of the 3.2 litre, five cylinder unit that puts out an impressive 200bhp. The XL and the XLT models are aimed at those customers looking for workhorse toughness and durability, whilst the Limited and the Wildtrack add a touch of luxury for weekend pursuits.
At the end of any day, however, these are mighty beasts to lug around and fuel economy will never be their strongest selling point. However, improvements have been made, with Ford claiming up to a 17% improvement on efficiency with around 43 mpg achievable from the 2.2 litre Super or Double Cab form with the 3.15 final drive ratio.
Continuing the historical trend, the Double Cab Rangers are certain to be the most popular, offering payloads varying between 1,070 and 1,270kg with load bed plastic liners pretty much as standard. If that's not enough, there's the potential to tow a braked trailer of up to 3,500kg – although it will need the bigger engine to gain the full benefits. Of course, it wouldn't be the pick-up market without a bewildering array of accessories from hard tops to macho bars to customise the Ranger to more personal needs.
We tried a variety of models on our test drive and handling, thanks to electric power steering and ride comfort, was consistent with a comfortable saloon. Wide comfortable seats with lots of support, plenty of leg room, a multitude of essential items such as cup holders and storage space plus well located grab handles all contributed to a pleasant day cruising the Buckinghamshire countryside. With so much going on in the cab and under the bonnet, the attractive digital colour displays on the instrument cluster kept us fully informed of both our own and the vehicle's driving performance at all times. In addition, all Rangers now have DAB radio and a USB port.
Ford has thrown a huge amount of technology towards keeping the driver as safe as possible, including a new forward alert and collision mitigation system which will help avoid shunts by applying the brakes if the vehicle feels itself in an emergency situation There's also front and rear parking assist, adoptive cruise control and traffic sign recognition which alerts drivers when entering a speed restriction zone. Not quite so appealing, at least to us, is the lane keeping alarm system. It really starts to grate after a while on the open road. If you can't drive in a straight line, you really shouldn't be anywhere near the highway!
Part of the test included a challenging off road course and here the Ranger really comes into its own, more than equipped to handle an assortment of steep climbs, hairy descents and deep water crossings. In fact, the Ranger has a best in class wading depth of 800mm. That sounds a lot and, as we can testify, is even more impressive in reality. With both Hill Descent control and Hill Hold as standard, it's simply a case of putting your feet up and letting the engine take the strain.
The driving experience may have been over for us but the obstacles will keep on coming quick and fast for the Ranger as the competition intensifies during the summer months. From what we have seen, however, Ford's success in the pick-up market looks set be far ranging!