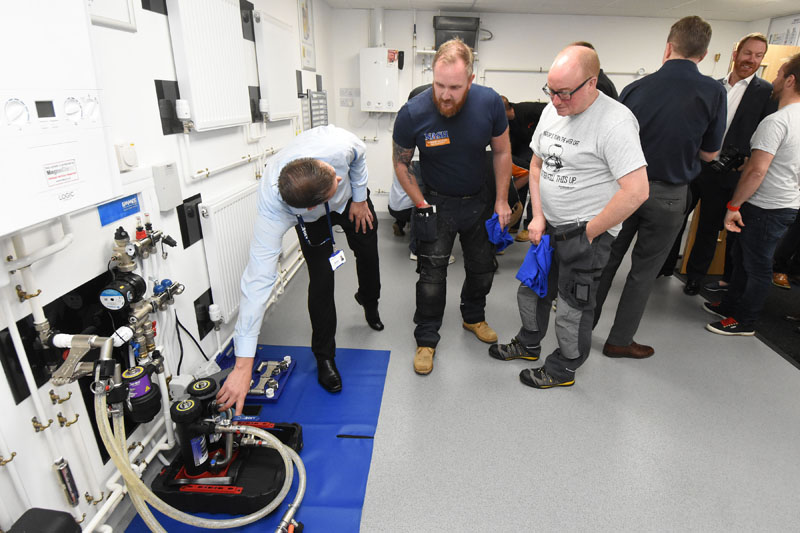 The way in which heating systems are protected and maintained has changed a huge amount over the last 20 years. As industry best practice, technology and regulation continue to evolve, ADEY's Senior Technical Trainer, Colin Yearp, explains how the company is helping installers to keep their knowledge and understanding up to date.
The invention of MagnaClean more than 15 years ago revolutionised the industry, making it easier for installers to collect and remove magnetite from heating systems, and prevent it from causing damage to boiler components, radiators and pipework. Today, magnetic filtration forms a critical part of ADEY's Best Practice approach to water treatment, which was developed in recognition of the greater benefits that can be delivered when filtration is used hand-in-hand with system cleaning, quality chemical dosing and regular water testing.
Hands-on training
There are 16 fully equipped ADEY training centres around the UK that enable installers to get hands-on with the latest product range. Each one-day session is delivered by one of the company's Senior Technical Trainers who have had a combined 45-years' experience working on the tools before joining the company. Having worked in the field themselves they understand the daily challenges installers are facing.
The training sessions can be easily booked through our website. Class sizes are kept small to ensure all installers taking part get practical experience, and the sessions are informal and friendly to encourage questions and discussion among the group or one-to-one with the trainers.
ADEY believes that by adopting a best practice approach to system maintenance and protection, installers can set themselves apart from the rest. It's therefore important that they fully understand the process and the benefits each step can bring. The knowledge gained at the company's training sessions will make it easier for installers to be able to talk to customers about the process and how it can help improve system efficiency for the long term.
Knowledge and confidence
Ultimately, the training is all about giving installers the knowledge and confidence to be able to fix problems. Learning good habits and understanding why and how to do things in the right way will undoubtedly save them from potential problems further down the line.
The course aims to ensure that installers don't rely on the latest technology and solutions as a 'fit and forget' fix for system issues. For example, as well as providing ongoing protection, magnetic filters are a great diagnostic tool. If a filter is collecting magnetite, it could be an indication of a wider system issue and this should be investigated rather than simply cleaning the filter and moving on.
It's also important that installers understand the difference between the vast array of filters now on the market so they can be sure to choose the right one for the job. With technology continuing to move on at pace, the course also discusses the features and benefits of the new MagnaClean Professional3 Sense filter. One of the biggest benefits is the way in which the filter can help drive customer loyalty as well as building trust and a better relationship with homeowners which in turn helps to encourage repeat business. Customer service is at the heart of this and thanks to the filter's ability to predict possible problems before they occur as well as ongoing monitoring, the homeowner is better able to plan budgets and the installer can plan their time more effectively.
Chemicals, system cleaning and water testing also have a big role to play in best practice system care. It's therefore increasingly important that installers are familiar with the tools at their disposal. For example, while any good installer will know about the need to use chemical inhibitors and cleaners, they might not necessarily understand why or the difference they make to system performance. Giving them this knowledge will also make it easier to explain to a customer why they need it and help them see that it's not just a way to add a few extra pounds to their bill.
As the industry and technology continues to move forward, it's important that manufacturers like ADEY are equipping installers with the necessary tools and solutions to do the best job possible and help them to confidently apply what they've learnt in the classroom to their day-to-day job.