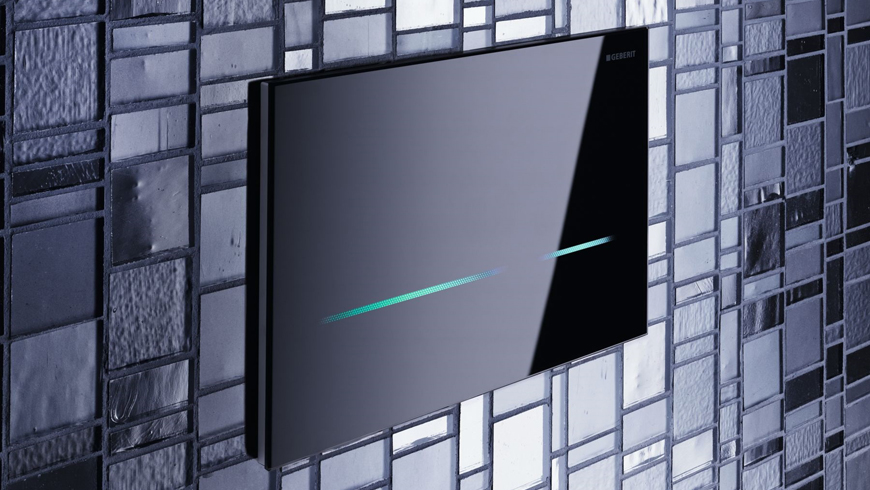 Once the reserve of public toilets, touch-free bathroom products are now making their way into the domestic properties. Victoria Willis, Technical and Product Manager, Sanitary for Geberit, explains why it's more than just a desire for gadgetry that's turning homeowners onto touchless technology.
We are all becoming much more aware of how harmful germs that carry sickness bugs, such as the Norovirus and general flus and colds, can be spread due to lack of hand hygiene, with the bathroom one of the top hiding places for these germs. Bacteria spreads from our hands onto practically every surface, and from the hand it's a short trip to the mouth, with the potential for a range of nasty illnesses to take hold. One of the best ways to prevent this from happening is to stop touching these surfaces, something that can be more easily achieved using touchless bathroom technology.
Bathroom products that are touch-free, such as taps and flushplates, not only cut down on the opportunity for germs to spread through contact, but also make the bathroom easier to clean and are extremely easy to operate by the whole family; homeowners can rest easy that the risk of illness is reduced without the need for constant bleaching.
Apart from keeping the bathroom cleaner, touch-free technology can reduce water wastage, with infra-red controls for WCs and brassware enabling the flow of water to be controlled automatically. This makes the touch-free bathroom doubly appealing for homeowners looking to combat the spread of germs and save money on their utility bills.
While the hygiene and cleanliness benefits are clear, there will still be customers who want touch free purely for its gadgetry prowess. For these clients, touchless can be taken one step further by combining it with the latest in sanitaryware technology.
Shower toilets are the newest loo on the gadget bathroom block and Geberit's AquaClean range can be combined with a touch free flush plate to create the ultimate 'techno-loo'. Including water heating, a range of wash functions and air drying, plus options in the AquaClean 8000plus model that enable the various functions to be individually adjusted, with preferences saved via a remote control, these toilets offer the ultimate lavatory experience. To ensure the bathroom is a pleasant environment for everyone, it also features an automative odour extraction system, which kicks in as soon as the user sits down.
Despite the benefits, you might think that touchless products haven't filtered down into the consciousness of the average homeowner. We conducted a survey to find out how people use their bathrooms and revealed that technology is a significant trend among homeowners. In particular, almost half (41%) of the 1,000 homeowners we asked said they were keen on the idea of including touch-free controls in their bathroom design.
So, next time you're talking to clients about their bathroom needs, if cleanliness and convenience are high on the agenda don't ignore touchless; a technology that's come out of the public washroom and into the homes of your domestic customer-base.