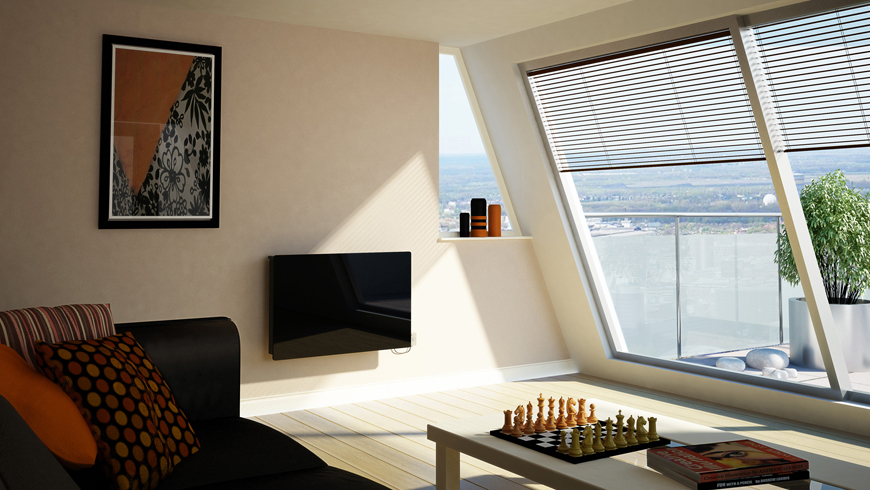 Heat pumps are an extremely efficient means of heating for both domestic and commercial buildings, but for installers to maximise their performance, it is crucial to consider heat emitters. This is particularly evident when planning retrofit and refurbishment projects where conventional radiators or other emitters will already be in place. Clyde MacVeigh, Marketing Director at Dimplex Renewables, explores why installers should look beyond the heat pump, in order to optimise performance, and deliver maximum savings.
It is no secret that heat pumps perform better at a lower temperature output. Phase One of the Energy Saving Trust's Heat Pump Field Trials concluded that heat pumps should be installed with low-temperature underfloor heating or properly-sized radiators in order to get the best performance. In Phase Two of the trials, it was further acknowledged that different aspects of a heat pump system will have a varying impact on its performance. The majority of test sites which experienced 'major' or 'medium' interventions (including new radiators) performed better after the changes.
For the cost-conscious customer, it will seem appealing to save further investment and keep the existing products but this is where it becomes important for installers to make their customer aware of the effect that emitters can have on system efficiency and ongoing fuel bills—and even how they can influence RHI payments.
In the majority of cases where outdated oil or LPG boilers are being replaced with heat pumps in a domestic environment, it is likely that the property will have a system of conventional radiators in place. Conventional 'wet' radiators require a flow temperature of around 55°C, which in most cases is the maximum flow temperature that can be achieved by a heat pump. This means that the heat pump would be forced to work above and beyond efficient levels and radiators would need to be oversized in order to heat the building to its design temperatures.
Although models like the new Dimplex A-Class air source heat pump can achieve higher flow temperatures and reduce the need to replace all conventional radiators, any heat pump feeding low temperature heat emitters such as underfloor heating or fan assisted radiators will deliver better results than with conventional radiators. For customers, it means a larger initial investment but far greater running cost savings in the long run.
Underfloor heating is often listed as the ideal accompaniment to a heat pump fed system because of its lower output temperature (typically 35 to 40°C) and higher thermal mass, which means the heat pump does not have to work as hard to achieve target temperatures.
Despite the obvious benefits, there are drawbacks too. The screed laid on top of the heating tubes acts as a thermal store, so underfloor heating is slow to bring the room to the required temperature and it is rarely a practical or cost-effective installation option for the growing number of retrofit or refurbishment projects. Therefore, where underfloor heating is not a viable solution – and increasingly where it is too – more and more specifiers are waking up to the benefits of low temperature, fan assisted convector radiators such as the Dimplex SmartRad range. They typically require 40% less energy to reach room temperature than conventional radiators and are designed to optimise heat pump CoP (Coefficient of Performance), reducing system running costs and keeping CO2 emissions to a minimum.
With an optimum working temperature of 35 to 40oC – similar to underfloor heating – these radiators do not require oversizing like their conventional counterparts. In fact, they contain around only 5% of the water content of a traditional model and deliver three times more output per metre of length than a double panel convector, making retrofitting into a pre-existing radiator footprint much easier.
What's more, the minimal water content reduces thermal inertia and allows the radiator to reach its maximum heating output in less than a minute, compared to the 15-minute heat-up time of a conventional radiator system and even longer for underfloor heating.
The addition of low temperature heat emitters requires end users to think long term, considering the potential of ongoing savings over the initial increased investment. But with RHI, which offers tariff payments over a seven-year period, many heat pump purchasers are already in this mind set. When specified correctly, a heat pump will perform better if it is connected to a system of low temperature emitters – and there has never been a better time to deliver that message.