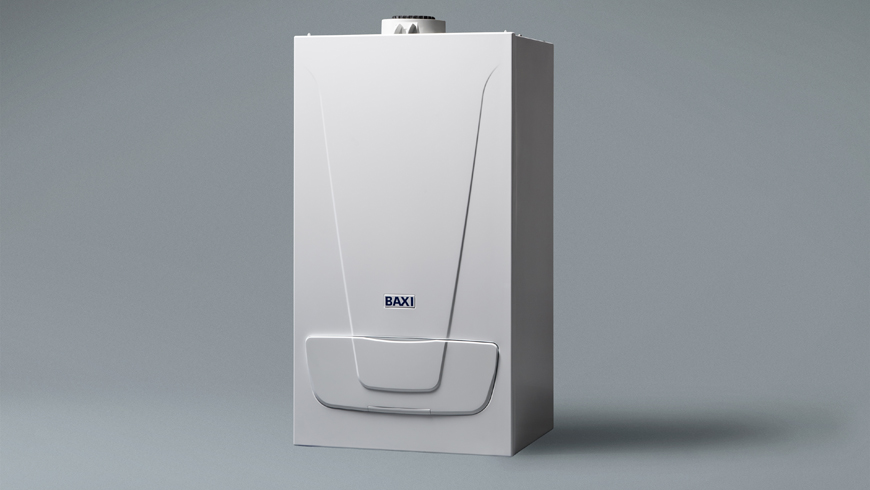 Following extensive installer research, Baxi has unveiled the EcoBlue range of boilers – created to offer ease of installation, efficiency and reliability. PHPI reports from the launch.
The Baxi EcoBlue range consists of two heat only models which, at less than 20kg, are said to be the lightest boilers available on the UK market – as well as combi and system models. All boilers in the range are compact and have been designed to be easy to install, with a wall jig that has an audible positive fix when the boiler is positioned, and accessible connections. The boilers have new, convenient, upright packaging, making them easier to transport and unpack on site.
With a modulation ratio of 1:5 the boilers have been created to be very efficient and economical to run, and extensive laboratory testing and field trials mean Baxi is confident they will deliver industry-leading reliability. They all offer easy access for straightforward servicing, with no special tools required, as well as an industry-leading choice of flue lengths, bends and accessories.
As well as boasting the lowest lift weights on the market, the Baxi EcoBlue Heat and EcoBlue Advance Heat do not require a pump overrun or permanent live, reducing costs, hassle and disruption and making them particularly suitable for retrofit projects.
The Baxi EcoBlue Heat has a central flue and is available in 12, 15, 18, 21 and 24kW outputs, while the EcoBlue Advance Heat has an additional rear flue option, giving it a smaller, neater footprint and making it suitable as a replacement for old balanced flue appliances. It is available in 13, 16, 19, 25 and 30kW outputs.
The Baxi EcoBlue + Combi is said to be very compact with excellent hot water flow rates, and is available in outputs of 24, 28 and 33kW. The Baxi EcoBlue Advance Combi offers 24, 28, 33 and 40kW outputs, and hot water flow rates of up to 16.4l/min. The Baxi EcoBlue System, designed for installation with an unvented cylinder, also has a small footprint and is available in a range of outputs from 12 to 32kW.
All boilers in the range come with a five-year warranty, apart from the Baxi EcoBlue Heat, which has a two-year warranty, and the Baxi EcoBlue Advance Combi, which has a seven-year warranty.