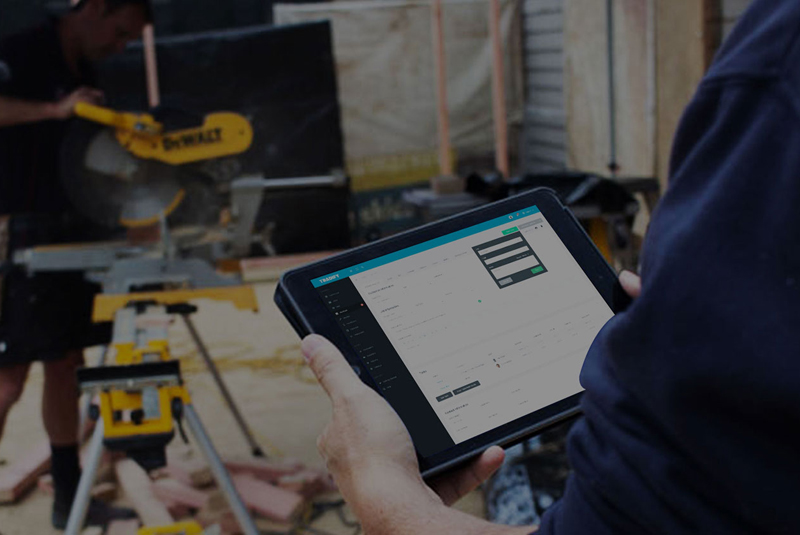 Running a company can be a time-consuming business but it doesn't have to be, explains Rob Mark, Managing Director of Tradify.
After a hard day on the tools, the last thing most of us want to do is the paperwork, but if you aim to run a profitable business, you just cannot avoid it. Manage it correctly and you are on the way to success, but get it wrong and real problems can set in, especially as the UK seems to be heading into admin overload.
Recent research has shown small businesses are spending on average 120 days a year on administrative tasks, with over 20% of that dedicated to accounting alone. In fact, a recent study by a business innovation charity found that 42% of entrepreneurs say dealing with finances is the most stressful aspect of running a company and 17% add that the stress has made them unwell.
Sadly, many plumbers find their free time eaten up by putting quotes together, completing tax returns, issuing invoices and managing employees or subcontractors. For a small business, putting off the paperwork can snowball into something catastrophic, where you can never catch up.
Winning new work can also add to the problem. If you say yes to every job and then spend 10 or more hours a day on the tools, your evenings and weekends must be spent catching up on the paperwork. Eventually something has to give and it will either be your relationships with customers, friends and family, the cash flow and performance of the business, your health, or all the above.
The key to success is to manage your admin time effectively, cutting out the unnecessary chaff and focusing on the elements that matter. Are you pricing properly and accordingly? Can you track a job from quote to invoice? Can you see the profit margin on every single job? Can your employees see what they have to do tomorrow, what materials need to be on site? Have you invoiced the customer? Have you chased late payment?
It sounds complicated, but it is achievable and it is where technology can help. Consider using job management software, such as Tradify (www.tradifyhq.com). That way, you can set about simplifying and streamlining the admin and overhead associated to each and every job. If, for instance, we save our customers 10 minutes per job in reduced admin time then that could easily mean an extra three hours per week available to focus on other things, like extra time with family and friends.
Case study
JPL is a small, family run business based in Grimsby, Lincolnshire with over 30 years' experience in the industry. The team prides itself on the fact that its customers return time and time again because of the reputation for a high-quality service based on trust and efficiency.
Building trust takes time and in JPL's case this has been built on a philosophy of treating every customer's home as if it was their own. The reputation for efficiency has come about from a desire to keep the business as lean and simple as possible leaving owners Marianne and Jason to focus on workmanship, customer service and repeat customers rather than chasing growth and scale at all costs.
Marianne and Jason credit both Xero (Cloud Accounting) and Tradify (Job management software for tradespeople) as having a major impact on their business being able to operate as efficiently as it does.
"Tradify is so easy to use, the system makes staying on top of the job scheduling, tracking and invoicing effortless. This saves us hours of time each week that we can use to focus on other parts of the business and spending time with our family," says Marianne.
"Over the coming months we will be using Tradify to contact our existing customers to pre-book their annual gas safety checks for next year as we can be booked up for months in advance. There are so many features to this product, we would recommend it for any tradesperson as being fundamental to their business."
Top tips for running an effective business
Make time for admin tasks
Set aside an hour or so a week to get the paperwork sorted out. Make it a specific time and stick to it. This discipline stops it from becoming boring and ensures it doesn't grow into something less achievable and more worrisome. Look at business Apps that can help you manage the paperwork anywhere at anytime and share it among your team.
Have an effective job management system
If you have subcontractors or employees, an effective job management system such as Tradify can make life so much easier. You can set labour rates, salaries and how much you charge clients for your people's time. You can manage your team (where they need to be, job details) so they receive information through the Tradify App, or via email.
Get invoices out on time
This is crucial to the health of any small business as it ensures cash flow, which is the lifeblood of your company.
Chase late payment
With most software tools, you can set reminders for yourself and your client as to an invoice which has become a late payment issue. Do not be afraid to ask for the money which is rightfully owed to you. It needs to be done.
Look at your finances and gain the insights you need to grow
For businesses to grow, you need information, and your accounts and job details hold the key to your growth. Getting to that information is important as it will help you to see which jobs are most profitable, where most of your costs lie and so on. Software such as Tradify can be integrated with accounting software such as Xero, giving you a powerful business tool.