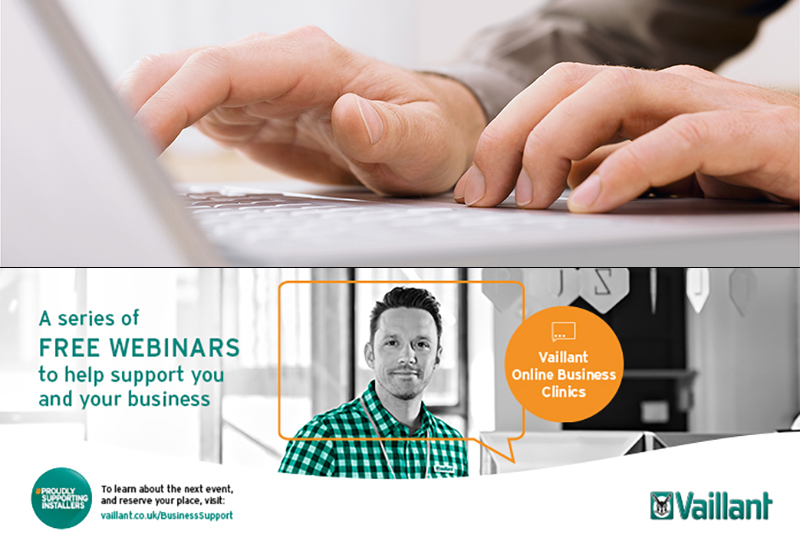 Spencer Clark, Commercial Director at Vaillant, outlines how installers can access relevant support in several key areas to make sure they come out stronger once marketplace normality returns. 
The unprecedented operating circumstances resulting from the Coronavirus outbreak have been challenging for businesses all over the world.
Like many other trades, installers are navigating through unchartered waters as they seek to support loyal customers and local communities and keep their businesses operating ahead of a return to some form of normality.
Whilst daily business activities within the trade have altered dramatically, it is also important to recognise that there are still many positive ways installers can use the current time to underpin and reinforce their future business prospects.
This includes looking to access the various levels of support manufacturers have made available to further enhance professional knowledge, help build stronger heating businesses and enable heating professionals to proactively take care of personal wellbeing during troubling times.
Positive wellbeing
With ongoing disruption and marketplace uncertainty comes the increased possibility of a rise in mental health issues that can affect installers as much as anyone else. Stresses about changes to income, health concerns and challenging personal relationships can fester, develop and lead to problems in the future.
It is important to recognise the signs of mental health struggles and to actively seek the help that is readily at hand. Episode one of The Vaillant Podcast provides information and advice on tackling these issues. Lauretta Wilson, the psychologist who features as a guest, advises that disrupted sleep patterns, appetite changes, drinking more than normal or a lack of enthusiasm for hobbies or interests are just some of classic markers that could indicate potential mental health issues.
Taking these early symptoms seriously can help installers to get on top of mental health conditions before they become worse. Talking things through with a family member or close friend, even over text message, can help to bring worries out into the open, put them into context and find resolutions.
Get marketing
In normal times, the pressure of work and limited time availability means that installers do not have the capacity to sit back and review their critical business strategies. Time off from installation or servicing work can provide the headspace to relook at areas such as marketing strategies or review current business models to identify any commercial gaps. Installers can use the current time to make sure digital platforms – websites, social media profiles and online local directories – are all up to date and that they showcase new and best work.
It's also worth contacting recent customers who were satisfied with work to encourage them to write online reviews and testimonials. Finally, installers should take the chance to replenish branded materials with logos such as stickers, workwear and stationery which, if they are a member of a manufacturer's loyalty programme, could mean they are able to get to items for free or at a reduced cost.
Building professional knowledge
There is a range of educational, advisory and technical resources available from manufacturers to enhance business know-how.
Online training is an excellent way of building industry and product expertise and can be accessed in a way that suits the individual. Vaillant is currently running free sessions that cover important and diverse topics, such as the decarbonisation of heat and the role of hydrogen as a key enabler in the battle to reduce carbon emissions. It is a great forum by which installers can enhance their understanding about some of the big environmental challenges the heating industry faces, and better understand how both installers and manufacturers can play their part in helping the government deliver on the ambitious carbon reduction target it has set.
Vaillant has also partnered with a variety of industry experts to offer business advice from the comfort of installers' own homes. These concise, hour-long sessions will provide helpful tips and guidance on everything from tax and financial advice to lessons on how to build business resilience.
Likewise, Vaillant's podcast series is designed with the installer in mind. Experts from diverse fields share their own unique insights into important issues such as mental wellbeing, through to providing practical hints and tips to turbo charge a company's marketing prowess. Available on all major podcasts services, tuning into one of these episodes can help the installer community make the most of shared knowledge and access it when time is available.
For installers still undertaking projects and essential work, Vaillant's pledge of support has seen the extension of the popular serviceASSIST trial*. The solution enables installers to remotely monitor customer boiler installations with access to detailed performance data, fault code history and other essential diagnostic insights at the click of a button. The company has also extended the ecoFIT pure extended warranty when registered on Advance and installed with one of the eligible Vaillant controls.
In addition, exclusive to Vaillant Advance loyalty members, Vaillant has partnered with TradeGaze.com, an online tool which allows installers to carry out a survey remotely. With homeowners simply uploading photographs of the job, installers are able to provide a quote without the need to visit the property.
At a time of uncertainty, these practical support commitments will be welcomed by installers.
Finally, always remember that Vaillant's technical support team remains in place to offer advice and product information through various social media platforms as well as on the telephone, enabling installers to continue to provide the highest standards of service to their valued customers.
No one likes the prolonged insecurity caused by the current health crisis. But taking a positive stance on important matters such as personal wellbeing, business strategy reviews and professional development, with the support of industry stakeholders such as manufacturers, can help heating installers transform the current period of uncertainty into one of future business building opportunity.
For more information on Vaillant's range of support for installers, visit www.vaillant.co.uk
*Currently compatible with vSMART thermostats only