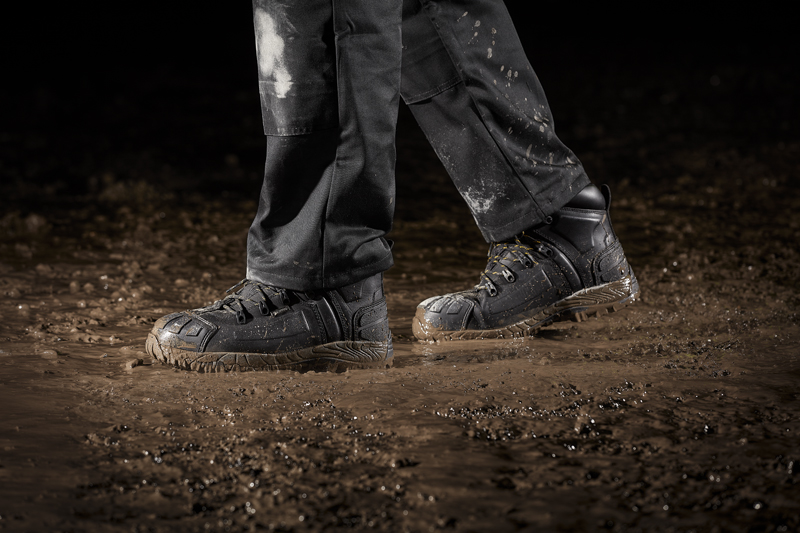 Footwear is currently a major focus of research and development activity at Dickies Workwear. James Whitaker, Marketing Director, shares his advice on what to look for when shopping for professional shoes or boots.
If there's one item that's really worth investing in, it's what you wear on your feet. Luckily, innovations in footwear over recent years means there's now more choice than ever before when shopping for boots or shoes to get you through the working day. However, with so much to choose from, it can be difficult for installers to know where to start.
Here are the key points to consider when choosing footwear to support you on site …
Think protection
As safety is always a top priority on any site, foot protection should naturally be one of the first considerations when shopping for footwear. Look for toe and anti-penetration protection – steel toe-caps plus a steel midsole for underfoot protection remain a popular choice, but composite anti-penetration protection generally offers better flexibility for those who bend and kneel throughout the day.
Many safety footwear designs also include a level of heat protection – some outsoles are heat resistant to up to 300o C, for instance – and anti-static properties.
Think comfort
Today's footwear designs offer features to maximise comfort regardless of weather conditions, such as breathable textile lining and waterproof membranes.
Similarly, look for details such as padded uppers and cushioned footbeds for added comfort – something you'll be grateful for when on your feet all day.
As an example, our Medway Safety Hiker boot is particularly popular among installers looking for comfort, without compromising on protection. With 3M Thinsulate insulation and water resistant to S3 WR HRO SRA approved standards, the heel is shock absorbent, easing the punishment of busy feet on rough ground.
Think durability
To ensure your footwear goes the distance, it's worth investing in options with additional scuff toe and heel protection.
Hardwearing outsoles are a must and those made from rubber are generally more abrasion resistant than PU soles, plus can also withstand more heat (up to 300o C).
Leather uppers tend to be more durable and water resistant than textile versions and, if you're mostly working outdoors, it's certainly worth investing in a pair of boots or shoes with a fully waterproof membrane.
For extra practicality, a deep cleated outsole will offer better traction and easy dirt release, while ladder grips are also worth looking out for.
Think style
With today's tradespeople more image conscious than ever, we're also seeing increased demand for footwear that helps them to cultivate a professional image.
Most footwear options are available in at least two colour-ways, with contrast detailing to allow for easy coordination with other items of clothing.
However, for heavy construction, robust, durable footwear should always remain top priority and the variety currently available means you can find something that's truly fit for purpose. Functional, practical designs that make your job as comfortable and as safe as possible, while cultivating a professional style, make the perfect combination when on the hunt for new footwear.