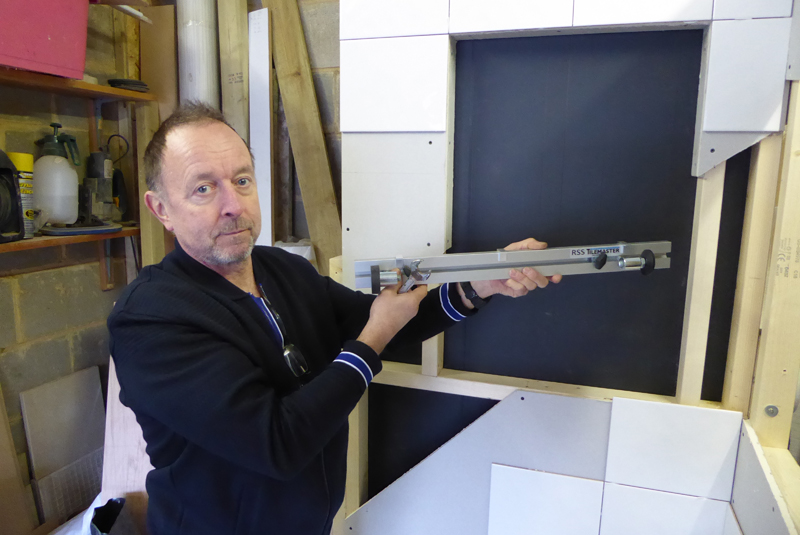 Kieran Nee visits Richard Sikorski, who has come up with a timesaving solution for tiling.
"The problem you face as a tiler is how to support a row of tiles halfway up a wall, under a window for instance. I've got a friend who's a professional tiler, and he used to put a wooden batten along the wall and prop up the tiles that way. That's a lot of messing around and you come back the next day wondering whether it's still up. Even a light tile with a good adhesive will slip slightly, so when you're using heavier ones it becomes a real problem. I thought there must be a better way, a less tricky way." Eventually, East Grinstead's Richard Sikorski came up with a solution to the problem faced daily by tilers across the land in the form of the RSS Tilemaster. From his suburban garage, Richard works on his creation around his full-time career as a carpenter.
Richard explained the process so far: "I've been working on it behind the scenes for almost two years, and only now are we finally ready to go with it. We kept on thinking we were ready and new things would crop up, like we had to get a website sorted out for it. It dragged on! We were at Professional Builder Live (co-located with PlumbExpo), and we were flat out for two days, people were constantly coming up to us to check out the product and we were telling people about it constantly. I was really surprised at how many professional tilers commented on the product, marvelling at what a good idea it is. I knew it had potential when my friend kept on borrowing my prototype, so I eventually gave him one."
It's got potential beyond tilers, as Richard points out: "It's mostly tilers, of course, who are interested in the product, the clue is in the name really. However there are a lot of other trades, such as plumbers, who are interested because inevitably you end up doing a bit of tiling no matter what trade you are. If you're on a small job and you need to do a bit of tiling around a pipe, say, it's not always worth calling out a tiler to do it, so you learn to get by on your own. I'm actually a carpenter, but I found myself doing a lot of bathrooms over the years and I started tiling my own because my regular tiler was often too busy. The customer starts getting a bit anxious if you have to leave the job unfinished for a few days waiting for a tiler, so I decided I needed to take matters into my own hands. I was a bit slow of course, because I don't do it every day, so I came up with this solution to make things a bit quicker."
And Richard certainly has faith in his own creation: "I wouldn't tile without the RSS Tilemaster, it makes things so easy. Once you know where you're going to start, you set up the legs and you're off. You can go all the way up to the top. A lot of tilers tend to go around the bath first, because that's the biggest item in the room, and you don't normally tile straight onto the bath in case it's not completely level. It's also to do with the cuts, you want to ensure you've got a decent amount of tile at the very top and bottom of the wall, so it's often best to start some way up the wall. Before this, tilers were screwing battens on the wall, which can be dodgy as the wall might not take it well, and you can't get wood dead straight. Also with these old houses there's always a chance you hit a pipe. Plus, once you've tanked a wetroom you can't drill through the wall."
For more information, visit www.rsstilemaster.co.uk.