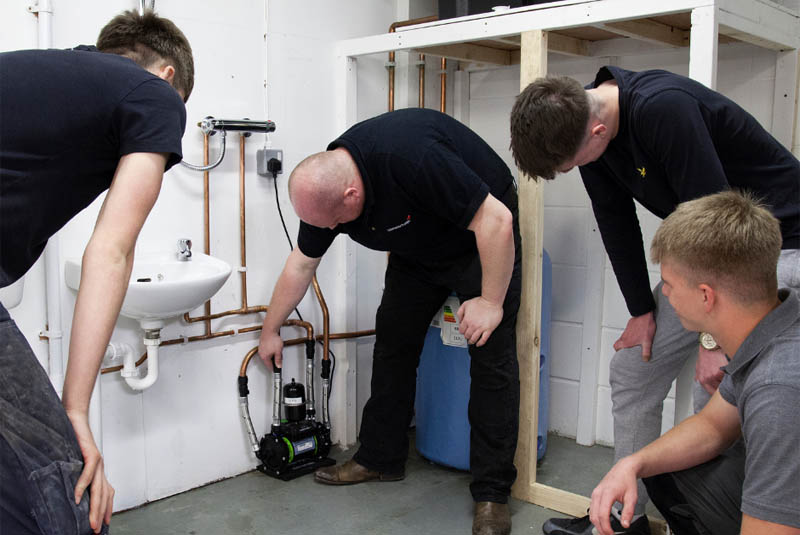 Salamander Pumps will be taking to colleges across the country in a bid to help tackle the skills shortage and the poor training opportunities in the plumbing and heating industry.
With a recent survey confirming that a shortage of skilled workers, alongside poor training opportunities, were the most pressing concerns of the modern plumbing and heating installer, Salamander Pumps is aiming to help solve this problem.
Over the last year, Salamander's Training Manager, Ken Vance, has visited more than 20 colleges up and down the UK, to provide hands-on training to budding installers, with plenty more college visits still in the pipeline.
Most recently, Ken Vance attended New Durham College to offer practical advice to the students on how to install one of Salamander's shower pumps.
Presented with a traditional gravity-fed system, which had been set up at the college, the students were taken through every step of installing a shower pump. Most importantly, the students were also taught the best-practice tips from Ken to ensure smooth installations and a long life for the pump.
As well as attending colleges for practical training sessions, Salamander has also teamed up with CIPHE to create 3D animated courses to provide further training, which will be available to members and allow them to complete the training anywhere, anytime.
Ken commented: "At Salamander, we understand how vital it is to provide training to the next generation of plumbers, and help combat the skills shortage facing the industry.
"As well as providing training courses at colleges across the country, we're also investing in our team here at Salamander, providing apprenticeship opportunities and even helping members of our technical team to complete their own plumbing qualifications."
Harry Teasdale, Curriculum Leader, Plumbing, at New College Durham, said: "Salamander Pumps have been an excellent support to New College Durham over the last 12 months, providing educational and informative seminars to our level 3 plumbing students as well as providing the necessary infrastructure to allow students to get that essential hands on experience. We look forward to an ongoing relationship with Salamander Pumps as it continues to support the high quality of teaching and learning."