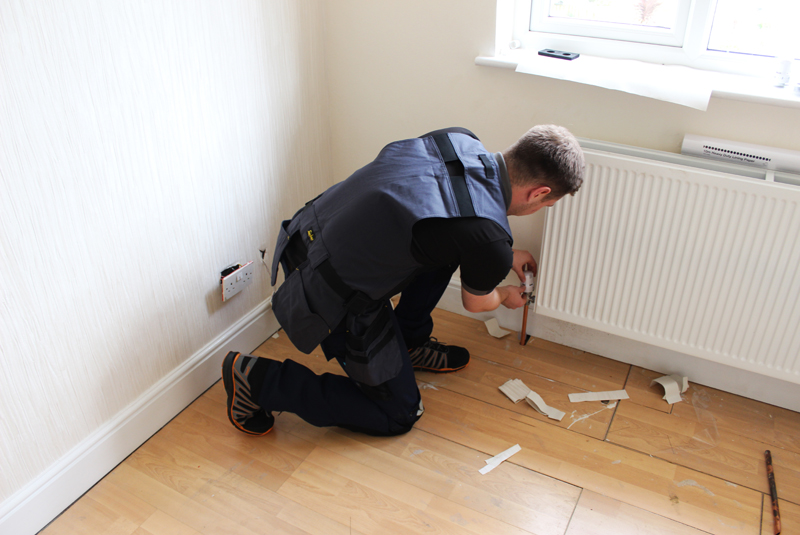 In a month that has seen much political change, Snickers is maintaining its own campaign to provide the UK's trade with comfortable, stylish and cool workwear as the summer months begin. Much like the vying parties in Westminster, its manifesto is littered with promises that its latest range of clothing will ensure freedom of movement, protection from the damaging environment and a confirmation that Brexit does indeed mean breakfast (we'll be honest, that last one may not be true). After all this talk, it seems only right that PHPI put such assertions to the test. James Moore reports.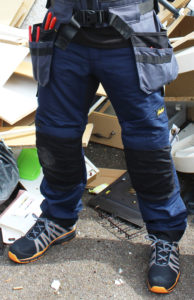 6207 37.5 LiteWork Trousers
As much as we'd all like to wear shorts in the hotter months, sometimes it just isn't possible, particularly when on cluttered and hazardous sites. These LiteWork Trousers really do offer the best of both worlds, however. You can stay cool, dry and ventilated in a pair of these super-light holster pocket trousers, whilst the ever-useful knee pockets are there to provide the perfect fit for the accompanying kneepad protection. Featuring advanced design with 37.5 technology, the modern cut of the trousers ensured an excellent fit for our model, which isn't always easy when you're as short as him, whilst the Cordura stretch gusset in the crotch provides that freedom of movement we were talking about.
Another important point to make is the sheer number of pockets these trousers have. All sorts of tools can be stored – and occasionally lost – in the trousers; particularly useful when in cramped environments, or in need of some surprise change for a coffee in the morning.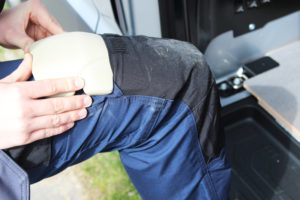 9112 D3O Lite Kneepads
Kneepads are essentially, well, kneepads… right? It appears that the technical bods at Snickers, however, believe there is more to a decent pair of cap protectors than just buffeting against harsh environments. Even these have been manufactured with D30 Lite material, ensuring the necessary ventilation to keep cool in the summer months. The material is also cut resistant, and has an ergonomic pre-bent design so the pads close around the knee.
Due to the aforementioned height issues of our model, there have been times where kneepads act more like shinpads in the past. Useful in the local football derby, we'll admit, but not so useful on site. These, however, can be placed at different heights in the kneepad pocket to ensure correct positioning for maximum protection… and so that they can be used for their intended purpose.
2724 37.5 Allround Polo Shirt

Combining the smart, professional look with flexible, job-appropriate workwear is not always an easy task for installers. The Allround Polo Shirt may be just the ticket however. Its waffle structured fabric offers excellent ventilation and moisture transportation for enhanced climate control to ensure a professional look throughout the day. As always, there's the flexibility and comfort on offer expected from Snickers. Also featured is a handy breast pocket to keep hold of that most valuable of tools – the elusive pen.
4254 Toolvest
We've already highlighted the pocket offerings of the LiteWork Trousers, but can an installer ever really have enough pockets? This reinforced, versatile Toolvest is extremely useful for giving easy access to essential tools at all times. Crucially, it offers wearers greater flexibility than carrying tools in trouser pockets, as we found out on review, with far less chance of screwdrivers, spanners, pliers and the like falling out or offering you a brief reminder they're close by with a sharp stab in the leg.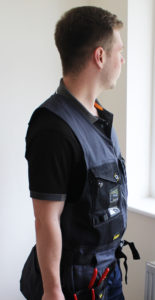 The vest features wide shoulder straps and stretch fabric for enhanced working comfort and ease of movement, as well as an integrated inside expander to enable users to wear it over a jacket, when the inevitable British summertime shower comes down. Crucially, for all those social media junkies, Twitter is always close at hand with an integrated, easy-access mobile phone compartment.
Solid Gear Triumph Safety Trainer
It seems safety shoes are all the rage at the minute. This is perhaps because they're now beginning to offer both the safety of boots and the style of trainers. Though not everyone could pull off such a foot pose, the style is clear to see, and we can confirm they offer comfort in abundance. The safety aspect is also there – though by the lightweight feel of them you'd never know. Anti-slip rubber midsoles and composite plate and aluminium toecaps are integrated, whilst the footbed features a breathable, antibacterial insole, ensuring both colleagues and GPs can rest easy.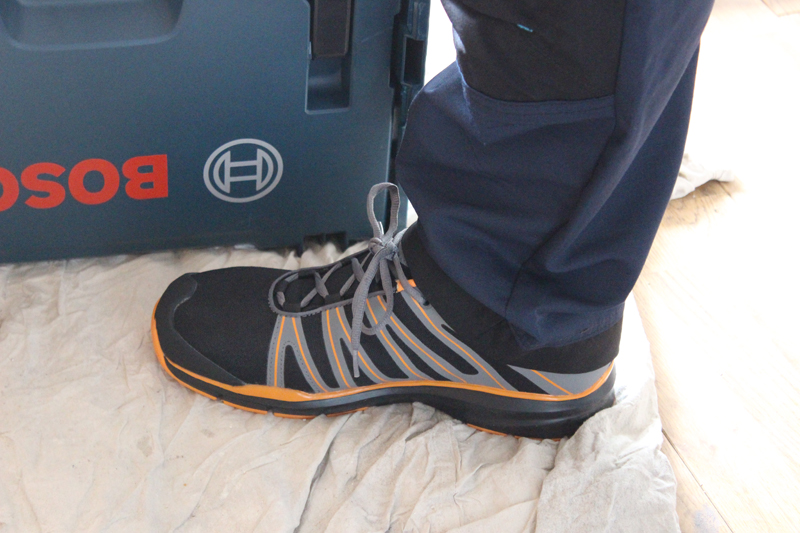 9217 Litework 37.5 Socks
Socks are often too easily dismissed when it comes to spending on protective workwear, yet the difference is notable once these lightweight mid socks are slipped on, as they are comfortable but somehow offer more ventilation with the air channels and mesh structure than the holey pairs that fill my wardrobe. Wearers' toes and heels will be well protected with reinforcement, whilst each sock has been left and right shaped for optimal fit – talk about marginal gains!