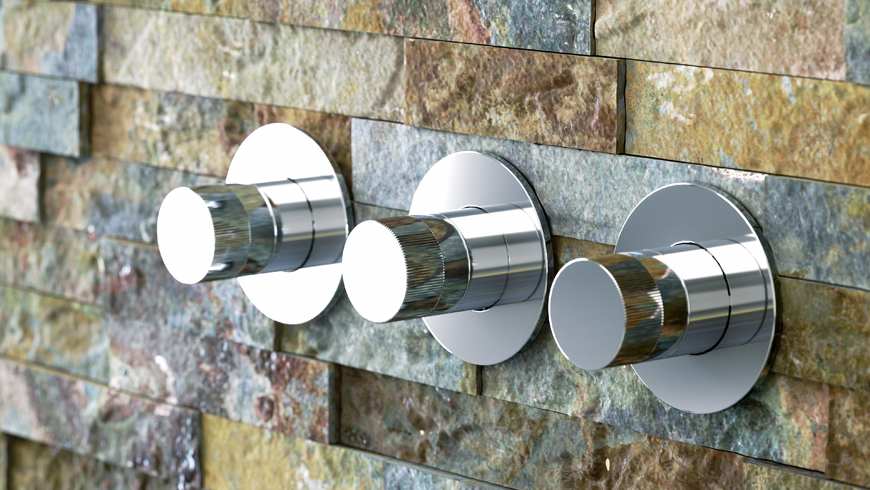 Offering benefits in terms of performance and design, mixer showers remain a popular type of shower. Concealed versions offer a particularly clean, minimal look, and market developments mean they don't have to be challenging to install, says Fiona Bowyer, Marketing Director at Bristan.
Showers remain popular with British households; a recent survey revealed that three quarters of homeowners would opt to include a shower in their home over a bath. Mixer showers are often the most desirable option because they offer benefits in terms of performance and aesthetics. They usually deliver a higher flow rate than other types of shower, and there are many design choices on offer, ranging from traditional to contemporary.
Another design benefit is that mixer shower valves can be either exposed or concealed. Many homeowners prefer the clean, minimal, modern look that a concealed valve provides— but installation is considered trickier. The location of the valve will depend on the specifics of the wall that it is to be mounted in— and the manufacturer's installation instructions should always be closely followed.
Whereas the connection centres of an exposed bar shower valve are usually 150 +/- 1mm or 153 +/- 1mm, the dimensions for a concealed valve generally have less commonality, and connection is more involved. If a concealed shower valve is being fitted into a solid wall, the brickworks needs to be chased out to allow the valve to sit at the correct depth, receive the water supply pipes and allow connection to the water outlet – such as a shower arm and fixed shower head or a wall outlet and flexible shower hose.
In addition, if the valve is to sit within an internal cavity wall, the installer needs to make a judgement about how much space is available. However, this can be difficult prior to the installation; cavity wall spaces vary significantly between properties, so it is impossible to have an accurate view. Some spaces can be extremely tight – in fact being too small for most concealed valves on the market.
In many cases, installers will buy a concealed valve without actually knowing whether it will fit – thus taking the risk that a false wall might need to be created, which is a significant drawback for both the installer and homeowner. In our experience, some installers actually avoid concealed shower valves altogether – instead choosing to recommend exposed products.
Dual control concealed valves
Bristan has launched a new range of dual control concealed shower valves to make this complex task easy. The company is all about producing innovatively designed products that make life easier for installers. So, after carrying out comprehensive research into cavity wall spaces, we have created a product range that is suitable for all UK homes. 35 new dual control recessed valves have been launched, split across 10 ranges – named Artisan, Cascade, Cobalt, 1901, Prism, Sail, Pivot, Orb, Tria and Renaissance – and they can all be fitted into a cavity as small as 35mm. There is also 17 to 30mm of inbuilt adjustability to provide further flexibility.
An installer can therefore purchase any Bristan dual control concealed shower valve and be confident that it will comfortably fit within the cavity walls of a UK property, or that there will be less brickwork to remove. Furthermore, installers have everything they need in the box, as a wall outlet is included as standard.
In terms of styling, we have designed the shower valves to complement our existing tap ranges, so a homeowner can create a complete 'look'. A variety of styles, from traditional to ultra-modern, are available to suit all tastes and décor.
We have also taken water pressure into consideration. Usually, the effectiveness of a mixer shower depends on a good hot water supply from a boiler or cylinder, and whether the cold water pressure is constant and both hot and cold water supplies are (preferably) balanced. Not having enough hot water to meet demand can of course lead to poor performance, a disappointed customer and costly call backs.
Our new range of dual control concealed valves has been designed to offer excellent flow rates at all pressures – even as low as 0.2 bar – regardless of the water heating system. This guarantees performance and ensures the customer's expectations are met, again enabling the installer to make a confident purchase.