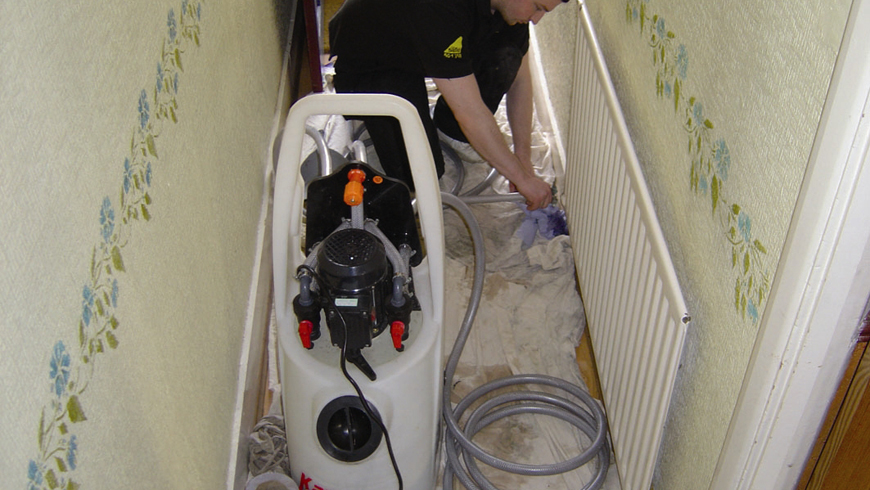 Jon Phillips, Head of Project Management at Baxi, discusses why installers should be talking to homeowners about the importance of a powerflush to improve the energy efficiency of their new boiler.
When giving an estimate for a new boiler job, it may be tempting for an installer to streamline their quote to offer homeowners the lowest price to win the business. However, this could be a false economy for both installer and customer. If an installer doesn't recommend the necessary water treatment, the job could end up costing both parties much more in the long run in poor efficiency and breakdowns.
Making improvements to an existing heating system isn't just about fitting a new, high efficiency boiler. While this will obviously make a significant difference to a homeowner's fuel bills, it is important to look at the heating system as a whole and consider how older elements of the system can be improved as they will affect the overall efficiency of the boiler and the energy savings achievable.
In any heating system, electrolytic corrosion occurs as a result of water coming into contact with the metals found in central heating systems, which results in the formation of magnetite and sludge. Systems that are blocked with sludge and corrosion or installation debris cause the boiler to work harder and for longer, as the circulating water is unable to transfer the heat efficiently. So, no matter how efficient a boiler is, if the system water is not clean and chemically treated – even in a brand new installation with new pipework – optimum energy and fuel savings won't be realised.
Heating engineers have a huge role to play in educating homeowners and explaining that chemical water treatment results in a more efficient, more reliable system. Including a powerflush and filter to the cost of a boiler installation could, typically, add £600 and although this may seem like a lot, homeowners will be significantly increasing their energy savings for this relatively modest investment.
Powerflushing works by creating a powerful flow of fresh water to remove debris from the system, the boiler and the hot water cylinder – if there is one fitted. Each radiator is also cleaned individually, to remove any scale or debris. Powerflushing is an important part of central heating system care prior to a new boiler installation, and is a one off expense. A powerflush will clean the system water thoroughly, and provided a quality inhibitor is used afterwards to treat the systems and prevent subsequent corrosion build-up and limescale formation, there is no need for additional powerflushes.
The impact of cleaning and protecting a previously sludged system can be quite significant and there is research to support the case for regular water treatment. According to independent testing verified by The Carbon Trust, cleaning and protecting a system can provide up to a 15% gas saving every time a room is heated up. To make additional energy savings, adding central heating filters to capture any circulating contaminants will also improve system longevity and efficiency.
Most importantly, water treatment will protect the life of a boiler. A new boiler is a big purchase for a homeowner, and to make that commitment they need to be assured they are getting value for money and an appliance that will last. If a new boiler is added to a system which hasn't been properly cleaned and flushed, the unit could fail in a matter of weeks, causing costly call backs, unhappy customers and damage to both the boiler manufacturer and the installer's reputation.
For installers who do not have experience in powerflushing, there are many courses available, either from equipment manufacturers or gas/plumbing training centres. These courses are typically one day, hands-on programmes of study where installers can learn everything they need to know about cleaning a system using this safe and efficient method, to get the best results for the customer.
As a consumer's first port of call and most trusted source of information on domestic heating, installers are well placed to advise homeowners on the benefits of powerflushing. When quoting for a new boiler job, installers should give all the relevant information about how to improve a complete heating system rather than just how much it costs to add one energy efficient element to it.
For a slightly bigger outlay, customers opting for powerflushing at the time of their boiler installation will benefit from a much more efficient system, improved savings on their fuel bills and trouble-free operation for longer, while installers profit from higher margins and peace of mind that they have left the customer with a high performance heating system.