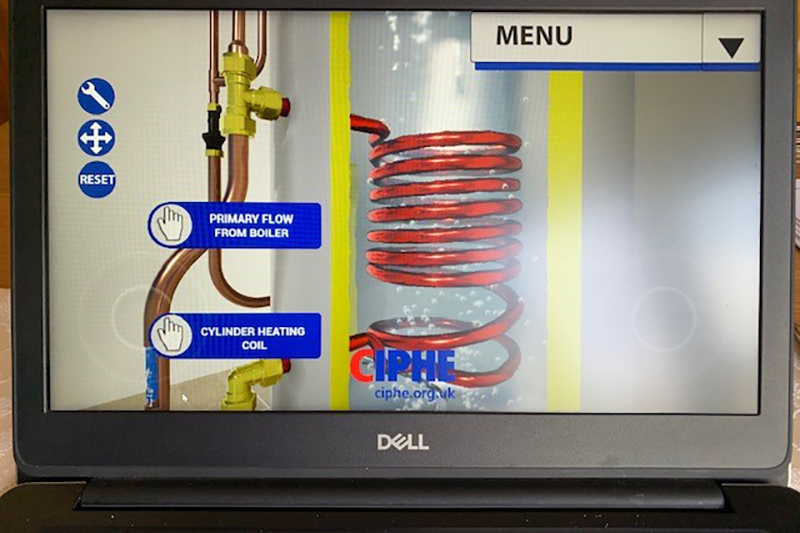 Jerry Whiteley, Technical Manager at the Chartered Institute of Plumbing and Heating Engineering (CIPHE), provides an update on training during the COVID-19 pandemic.
Training has undoubtedly had to adapt since the onset of the COVID-19 pandemic, in order to meet the professional development needs of budding plumbing and heating engineers. For the CIPHE, this has meant further investment into its professional learning digital software.
Approved Training Centres
The CIPHE currently works with over 50 colleges and training centres, which are known as our 'Approved Training Centres' (ATCs). These centres, and the students who attend, benefit from CIPHE approved training resources, career advice, engagement with leading plumbing and heating Industrial Associates (IAs), plus continuous help and advice in matters concerning education and training. Additionally, students at ATCs receive Trainee membership with the CIPHE free for the first year.
During the COVID19 pandemic, ATCs have been supported more with digital learning software. Not only does this software help educators to teach students remotely, it also helps to save ATCs money at the same time. One example of this in practice is the CIPHE's digital wiring and unvented hot water cylinder educational resources.
Wiring programme
The digital wiring programme has three elements: wiring and testing of a fully pumped S plan or Y plan and an underfloor heating system. It allows learners to work at their own pace and explore the controls in a guided and visual way from their home PC or college. While this has been very useful during the pandemic due to social distancing, it is also a great way to teach students in the classroom before they then test their skills and knowledge in the workshop.
By utilising digital learning, ATCs save money as the physical controls in the workshop will not become worn out as quickly either, which inevitably happens with regular use and then needs replacing over time. Typically saving £300/year whilst keeping the quality of learning for all users.
Unvented hot water cylinders
The CIPHE has developed an unvented hot water cylinder digital training resource, which is designed to support the curriculum for level 2 and level 3 students. Accessible via a home PC, or at college, the course allows students to see all the cylinder parts and how they work within the system on their screen. This is an excellent introduction to cylinders and provides a more detailed overview of the components for students to study from their own homes.
Not only a practical way of learning, this further saves ATCs money by helping to keep the actual college cylinders in assessment condition for longer. One huge advantage of the digital resources is that it keeps all learners engaged and involved at all times rather than a classroom being split between those who are doing practical work and those who are waiting for a turn.
Other resources
All installers can take advantage of the CIPHE's range of TechTalk videos available on the CIPHE YouTube channel. Further resources can then be found for CIPHE members only, where members can create their own tailored learning programmes to help them progress in their career and set attainable professional goals.
It is important to stress that digital training resources should complement practical training and that on the tools experience is still an essential part of the learning process. Digital training however is an excellent way of helping to continue learning beyond the classroom, and during the COVID-19 pandemic has been especially useful. Make sure to take advantage of all the resources available to you and keep on learning no matter what.
If you are interested in the CIPHE's learning resources or would like more information on becoming a member, please contact Tim Sainty via 01708 463102 or [email protected]