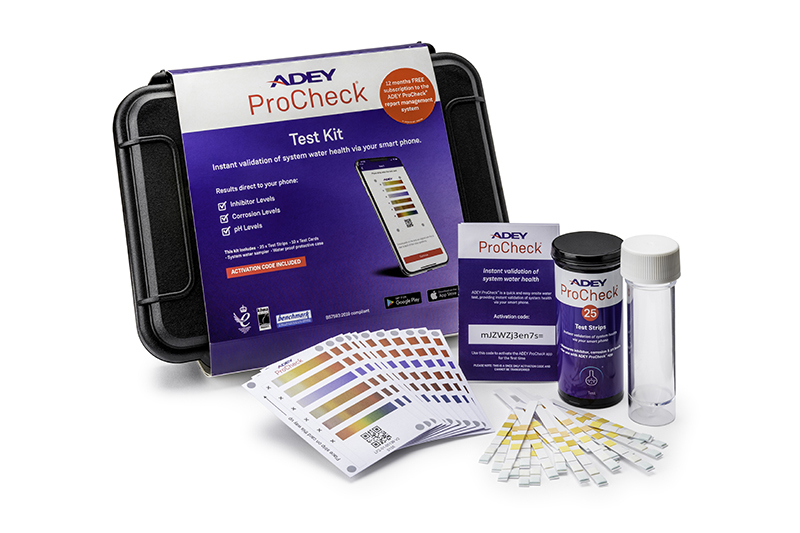 Although BS 7593:2019 stipulates that annual tests should be undertaken to check the concentration of additives and cleanliness of system water throughout a heating system's life, customer concerns about costs and limitations of the most used water testing methods can make it difficult to deliver this service and uphold the standard. Tom Hood, ADEY's Sales Director in the UK and Ireland, discusses some of these issues and shares some advice to overcome them.
It's not always easy to bring up the subject of water testing and treatment with customers. Where can installers begin?
In the current climate, consumers are naturally being more careful about expenditure, so it can be tough to start the conversation about the importance of keeping their system's water healthy, even if it will prolong the life of their heating system and save them money in the long run.
If the health of system water hasn't been properly maintained in the past, the chances are, the signs are already there – cold spots in radiators, banging noises from the boiler, lukewarm water from taps, leaks, loss in boiler pressure, or boilers simply turning themselves off.  To prove to customers that poor water health is likely to be the cause of these problems, carrying out a test would enable them to see exactly what's wrong with the water.
But customers are quite often reluctant to have a water test done because they're worried about the cost, especially if installers need to send a sample off to a lab
This is certainly the optimum way to carry out a water test, but it does come at a cost – between £35 and £40 per test. Because it takes 24 hours to receive the lab results, installers also have to leave the property and return if any element of the test requires corrective action. So, not only does the lab test incur a charge, but returning to a customer to carry out remedial treatment further adds to the cost.
Would a dip test be cheaper?
Dip tests do give instant results. But this technique only measures the level of a single brand inhibitor in the system and the findings are limited. What's more, these are open to interpretation regarding actions required, and homeowners have no way of verifying that an installer's understanding of the results is correct.
Are there any alternative options?
Yes, there is now a smarter, simpler, and more cost-effective solution for water testing at a customer's property. ADEY has launched the UK's first universal digital water test – ProCheck. By using it heating engineers can carry out a simple onsite analysis of water health in a system and sort out any problems flagged up by the results at the same visit. This is all done via a test kit and a dedicated app on a smartphone.
What does the process involve?
First, the heating engineer takes a sample from the system water and carries out a dip test using the ProCheck strips supplied with the kit. This strip is positioned on a test card before being scanned to the app using the smartphone camera – the scan is then analysed and verified.
Much like a laboratory test, ADEY ProCheck, which has been tested and approved by KIWA Gastec, looks specifically at the three main areas of concern: protective inhibitor levels, the level of corrosion through iron measurement and the dangers posed by the pH level present.  A report is immediately created and any problems with dirty system water can be identified and dealt with there and then without the need for a second visit. The engineer can use the report to explain to the customer about the possible consequences if the quality issues are left untreated. Results can also be emailed directly from the app to the customer or viewed later via a report management system.
Once the water test has been carried out, and any quality issues identified have been treated, how can installers encourage customers to have their system water tested annually in the future, which would help generate repeat business?
Once homeowners can see and understand how dirty water can damage one of the most expensive assets in their homes, they are much more likely to be interested in continuing with preventative water treatment and monitoring services. But to increase the chances of repeat business, it is important to build trust with them and give them peace of mind.
There are a few easy ways to do this. For example, having third-party validation of the test results and making your recommendations visible will both contribute towards a customer's trust in the test and suggested actions.
Keeping track of tests completed and, having digital copies of the results which can be easily resent to customers, can give them confidence that their heating system has been left in optimum system health by the engineer before leaving the job. What's more, valuable insights from previous tests can also be used to inform work required at their property during future visits. ADEY's ProCheck makes all this possible whilst streamlining the end-to-end process, so installers don't have to worry about the cost or time involved.
Thanks to this new water testing method and remote technology, difficult conversations with customers about these services can now be consigned to the past, helping installers to uphold industry standards and generate more business revenue at the same time.