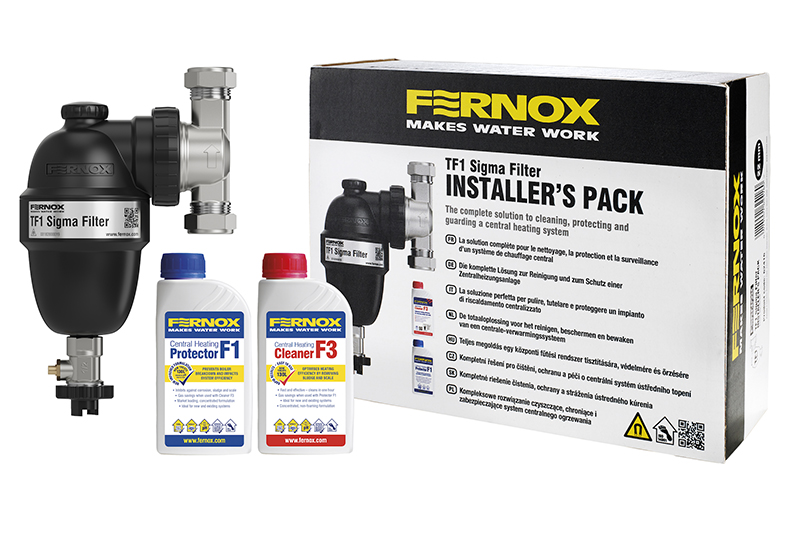 Fernox is giving you the chance to win a TF1 Sigma Filter Installer's Pack, which includes everything you need to clean and protect a domestic heating system.
Fernox understands that installers need easy-to-use, hassle-free products that can ensure the latest standards are observed. The Fernox FT1 Sigma Filter Installer's Pack is one such product. Included in this handy 3-in-1 pack is the TF1 Sigma Filter and the Cleaner F3 and Protector F1 500ml chemicals – everything needed to restore and maintain system efficiency.
TF1 Sigma Filter
The TF1 Sigma Filter was the first sealed, composite plastic filter launched to the market. Developed as a sealed unit with no removable lid, this filter offers improved reliability and eliminates the risk of leaks. Its design makes the cleaning process during the annual system service easy, quick and mess-free, as well as saving time for the installer on site. As there is no removable lid, there is no need to replace 'O' rings; therefore reducing ongoing maintenance costs associated with traditional lidded, plastic filters, which require component parts to be replaced each time the lid is opened for servicing.
To ease installation, the TF1 Sigma Filter can be installed horizontally, vertically or in any orientation in both flow directions. It can also be positioned at any angle up to 45°, making it ideal for use in restricted spaces. To aid installation further, the filter is available in both 22mm and 28mm versions and with either high-quality valves or slip-socket connections, depending on installer preference.
The filter uses Hydronic Particle Separation (HPS) technology and magnetic filtration to remove both magnetic and non-magnetic system debris fast and efficiently.
Cleaner F3
Fernox Cleaner F3 is a high performance, universal non-foaming chemical cleaner that starts to work after only an hour. It can also be left circulating in the system for up to seven days prior to flushing, which is especially useful for cleaning existing systems. Effective against dirt and sludge, this universal cleaner removes debris that would otherwise block pipes or become trapped within the boiler, damaging vital components.
Protector F1
Also included in the pack is Protector F1. This chemical product combines three different types of active inhibitors to form a protective barrier between the system metals and water – thereby preventing electrolytic corrosion from taking place and stopping the build-up of sludge and limescale long-term.
Formulated to include a high concentration of the main active ingredients, both Cleaner F3 and Protector F1 can treat up to a 130-litre system, which equates to 16 radiators or a 250m2 underfloor system. This reduces the risk of installers inadvertently under-dosing a system, as over 97% of UK homes can now be successfully treated with just one dose.
To be in with a chance of winning, simply enter your details below before midnight on November 30th 2020…