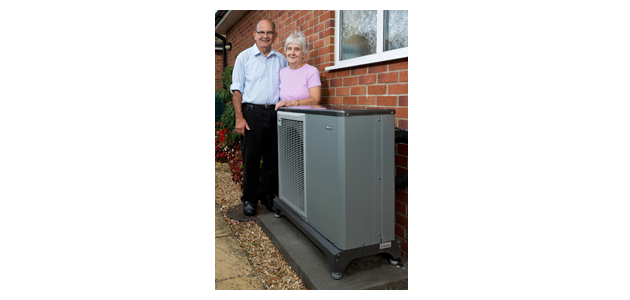 Owners of an off-grid Bedfordshire bungalow are now benefitting from comfortable, convenient and reliable home heating – and are among the first to successfully apply for the domestic Renewable Heat Incentive (RHI) – after swapping their solid fuel boiler for a NIBE F2040 air source heat pump package.
Built in 2001, the three-bedroom, one-bathroom property was originally fitted with a high-maintenance anthracite-fired heating system. When the time came to replace it, owners Malcolm West and his wife Christine were faced with the challenge of finding a brand new, cost-effective and energy-efficient solution. Being off-grid, a conventional gas system was not an option for the bungalow, so Mr. West researched renewable heating systems online before enlisting the expert help of renewable energy specialist and NIBE VIP Installer, Better Planet.
Better Planet's team of experts specified, designed, sized and fitted the NIBE system  which is made up of an 8kW F2040 air source heat pump, a 160L HA-WH5-Megacoil hot water storage cylinder, a 40L UKV40 buffer tank and SMO 20 intelligent controls. Charles Paulsen-Rakic, Sales Engineer at Better Planet explains: "Mr. West already knew he wanted an air source heat pump, and after carrying out a full site survey – including a heat loss calculation – we recommended the NIBE system as the best solution. Not only is it low-maintenance to run, NIBE products are also renowned for their quality and reliability – and because we are VIP Installers, the parts and labour are all backed by a seven-year warranty."
Before going ahead, it was crucial for Better Planet to ensure the property was adequately insulated and airtight, so the system could perform to its full potential and qualify for ongoing RHI payments. Charles continues: "The bungalow already had cavity wall insulation, but we advised that Mr. West increase the loft insulation to 250mm for maximum heat-loss protection. Given that air source heat pumps operate at lower flow temperatures than coal boilers, we also resized all the radiators in the bedrooms to run at a maximum temperature of 50°C. The rest of the house already had water-based underfloor heating – which was the ideal match for the new heat pump – so all we needed to do was adjust the existing manifolds."
The new NIBE system is now fully up and running, providing the property with a consistent and convenient supply of hot water and space heating. The Wests have also been successfully accepted onto the domestic RHI, and expect to receive annual payments of £563 for the next seven years. Mr. West says: "Charles and the Better Planet team were extremely helpful, courteous and reliable at every stage of the process, including during our RHI application on the Ofgem website. The application process itself was quick and straightforward – we did everything online and it took just two weeks from start to finish. We're very happy with our new NIBE air source system, and are looking forward to hassle-free heating for many years to come!"
Phil Hurley, Managing Director at NIBE, comments: "It's great to see this off-grid property's new air source heat pump package providing its owners with a whole host of economical, environmental and lifestyle benefits. With Better Planet taking a fabric-first approach to ensure optimum energy efficiency throughout the whole house, the Wests can rest assured that the system will deliver best possible results. Not only are they now enjoying a high-performance, high-efficiency system that meets their needs with virtually no upkeep, they are also set to continue reaping the financial rewards of their investment long into the future."
NIBE's MCS-accredited F2040 air source heat pumps are designed to meet 100% of properties' heating power demand in the 5-16kW range – featuring high-end inverter technology for maximum efficiency, reliability and heating output all year round. They are optimally partnered in a package with NIBE hot water storage solutions and intelligent controls. For more information on NIBE's air source range – or any product in the company's market-leading heating, ventilation and cooling portfolio – please visit www.nibe.co.uk.