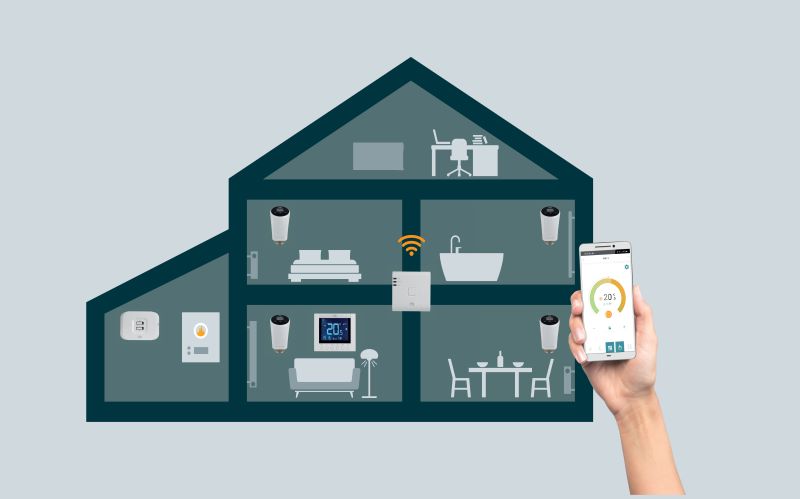 With a typical central heating system accounting for a large proportion of the total energy consumption of a building, the importance of efficient HVAC systems is clear. 
Myson recently launched Unisenza, which, the company says, stands for 'a unique sense of comfort and efficiency, easily obtained with a complete, unified control solution'.  
Julian Clegg, Product Manager at Myson UK, said: "The Unisenza Plus range is the logical next step with a wireless heating control solution that allows users to easily connect and control numerous heating and cooling devices at the touch of a button. The Plus refers to the extended range of possibilities and compatible products as well as the added value of a completely wireless network that allows for optimum flexibility in both new construction and renovation projects."
Julian continued: "With only a few components such as the Unisenza Plus Gateway, the Electronic Thermostatic Head, the wireless thermostat and receiver, it's very easy to make different combinations and configure the entire building with a single control range. The gateway can connect up to 100 end devices, for example, boiler, room thermostats, bathroom radiators, electric radiators, radiators with smart TRV's, etc, allowing for a fully tailored indoor climate comfort solution that evolves with the building as well as the occupants' needs and habits. That, in turn, leads to more comfort and energy efficiency, a win for the end users' budget and also for the environment."
Each of the Unisenza Plus products can be paired and linked to the Unisenza Plus Gateway to form an integrated network that is controllable via the Unisenza Plus app. Users can monitor and control all the linked heat transfer systems through the app, wherever and whenever they want.  The app enables users to prevent unoccupied rooms from being heated unnecessarily and ensures a comfortable temperature where and when it's needed. It also allows for multiple gateways to be added, so users can control the heating system in a home as well as, for example, a holiday home or second residence, from a single app.
Julian concluded: "With smart heating solutions such as Unisenza and Unisenza Plus it's easier than ever before to contribute to a better future and to do so at an affordable price. You pick and mix only those elements that are needed from a single range to compose an optimal system. No unnecessary extras, only a straightforward and easy-to-install combination of aligned elements that ensures a cost-efficient upgrade of any property."