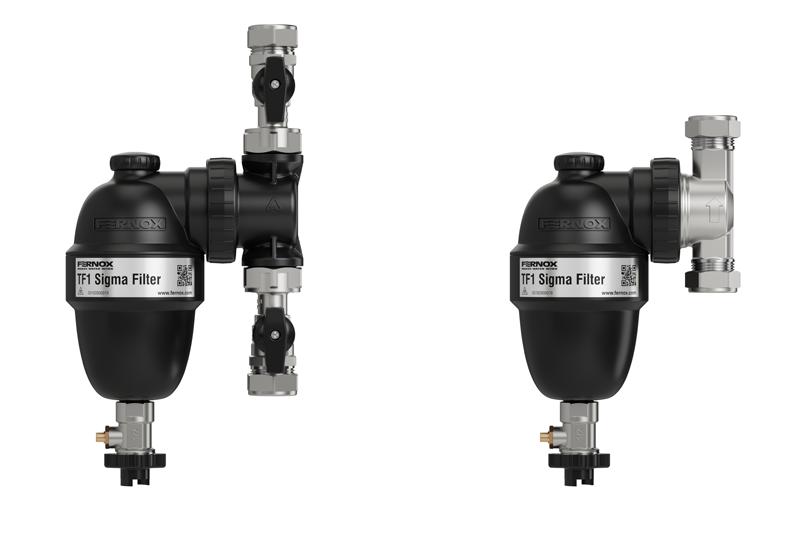 Fernox has released the newest addition to its in-line system filter offering – the TF1 Sigma Filter. Precision engineered, this sealed filter is made from composite polymer and, like its brass counterpart the TF1 Omega Filter, its watertight design is available with valves or slip socket connection to offer maximum customer choice. Reliable and easy to install and clean, the TF1 Sigma Filter comes with a 10-year warranty. Due for release in January 2019, the TF1 Sigma Filter continues the company's commitment to drive innovation in filter technology.
This latest offering provides an industry first – a sealed, composite plastic filter. Available in both 22 and 28mm versions, the high-performance filter uses Hydronic Particle Separation (HPS) technology and magnetic filtration to remove system debris fast and efficiently from a domestic heating system.
Responding to extensive market research and customer feedback, the TF1 Sigma Filter has been developed as a sealed unit with no removable lid so it is watertight, easy to clean and service. Adopting this sealed design approach eliminates the need to replace 'O' rings; therefore reducing ongoing maintenance costs associated with traditional lidded plastic filters which require component parts to be replaced when opening the lid for servicing.
To ease installation, the TF1 Sigma Filter can be installed horizontally, vertically or in any orientation in both flow directions. Due to its ability to be positioned at an angle up to 45°, it is ideal for use in restricted spaces. To aid installation further, the filter is available with either high-quality valves or slip-socket connections, depending on installer preference.
The TF1 Sigma Filter incorporates double radial seals on the connection between the manifold and the main body of the filter for extra reliability and design integrity.
Selected for its high strength and hydrolysis resistance, the TF1 Sigma Filter is made from an engineering-grade polymer – providing tough resistance against extremes in temperature and pressure.
Finally, all valves are designed to be operated easily by hand whilst providing a secure connection to the system and a robust service point. The magnet is made using a premium grade of neodymium – enabling a highly efficient capture rate, as well as a strong filtration medium that will ensure a continued and consistent level of collection.
"After in-depth research with installers, we identified that product simplicity was central to what they were looking for in an in-line filter. Following our success with the TF1 Omega Filter, installer feedback reinforced the growing popularity of sealed filtration units – particularly with reference to servicing a system – and we wanted to take this concept to the next level", said Carl Allinson, UK and Ireland Sales Director at Fernox. "We are excited to launch the TF1 Sigma Filter into the market, and we can't wait to see how it will be welcomed by the industry."