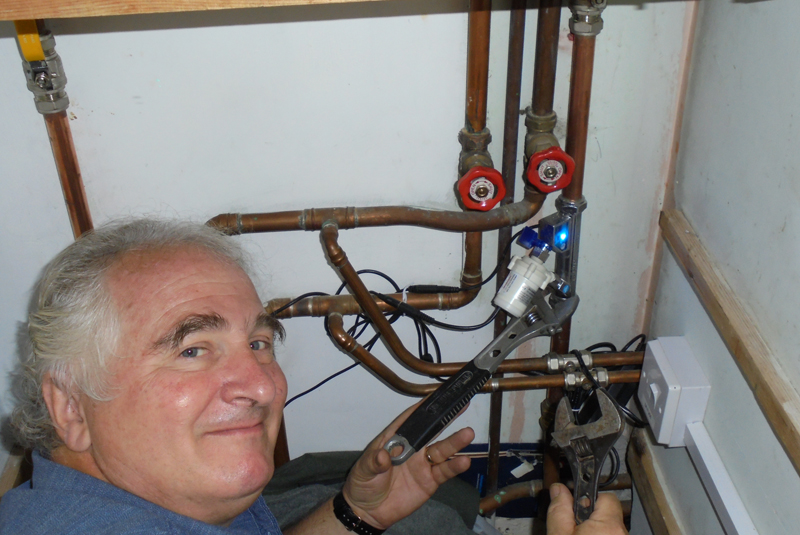 Abbie Smith sits down with Alan Wright to find out all about the Shower Power Booster, a compact pump solution designed to make pressure problems a thing of the past.
Finding inspiration from Victorian engineers, who used physics rather than complex electronics, Norfolk-based hydraulics expert and engineer Alan Wright began work on the Shower Power Booster in 2012. Today the retrofit pump is only 150mm in height, and will transform a low pressure shower or tap, making it a potential solution to tricky pressure problems that cannot always be rectified with a larger pump.
Size aside, what Alan believes sets the Shower Power Booster apart from other pumps is the wide range of applications. The unit is an appropriate addition for gravity systems, mixed systems and electric showers. However, due to its impressively small size the pump is said to be unable to cavitate, and is compatible with combi boilers. It is temperature and pressure-rated, making it safe for use with wood-burners and solar thermal systems.
The product is available as an automatic or manual pump, and is also offered in bundles to boost, or double boost both hot and cold water. Each pump is 100% waterproof, so can be fitted in the bathroom if needed, and uses a 12V DC power supply, to ensure that the product is safe and does not require an electrician for fitting.
The compact nature of the pump allows it to be fitted unsupported to existing pipework at any angle or orientation, making it an effective solution for households that simply don't have the space for a larger water pump. Of course, it would be natural to question whether the pump would be able to boost the power of the shower or tap to the same level as a much larger installation, but according to Alan, not only do Shower Power Boosters have an overall cost less than most traditional pumps, they use just 5% of the energy to create up to 1.1 bar of boost.
Alan explains: "With its flexibility and range of applications, the booster has become somewhat of a staple for some plumbers working with tricky, niche problems. A great example of this is small hotels and B&Bs. Installing a much larger pump comes with several problems for the hotel owner, such as the risk of overloading old, fragile pipes, the disruption to trade, and the fact that a boost may be required in several rooms. The Shower Power Booster solves the problems that bigger pumps just can't."
Despite the easy installation, many homeowners and businesses are opting to have their Shower Power Booster fitted by a professional installer. Perhaps this is unsurprising, with a recent study finding that 17% of Brits who attempted some form of DIY last year injured themselves in the process! To boost business for installers fitting the unit, Alan has set up a 'Find a Plumber' page. To become a recommended plumber and advertise on the Shower Power Booster site, visit www.showerpowerbooster.co.uk/find-a-plumber
Installation guide
Choose a location
The Shower Power Booster pump can be fitted to a water feed pipe in any location where there's suitable access.
Due to the compact nature of the pump, it can be fitted unsupported to existing pipework at any angle or orientation.
The pump's 12V DC power supply can be plugged into any convenient socket up to 15m from the pump (using low voltage extension cables).
Insert the pump
Simply cut and remove 115mm of pipe. Insert the Shower Power Booster pump and tighten the compression joints.
Plug in the Power Supply
The pump's power supply can be plugged into any convenient socket (up to 15m away) without requiring an electrician.
As the Shower Power Booster pump draws only 15 watts of power, it can also be connected to a standard lighting circuit. It uses low voltage DC, so it can also be positioned in bathrooms where 240V is prohibited.
We have three Shower Power Booster SP22S kits to give away! Click here to find out how to enter.