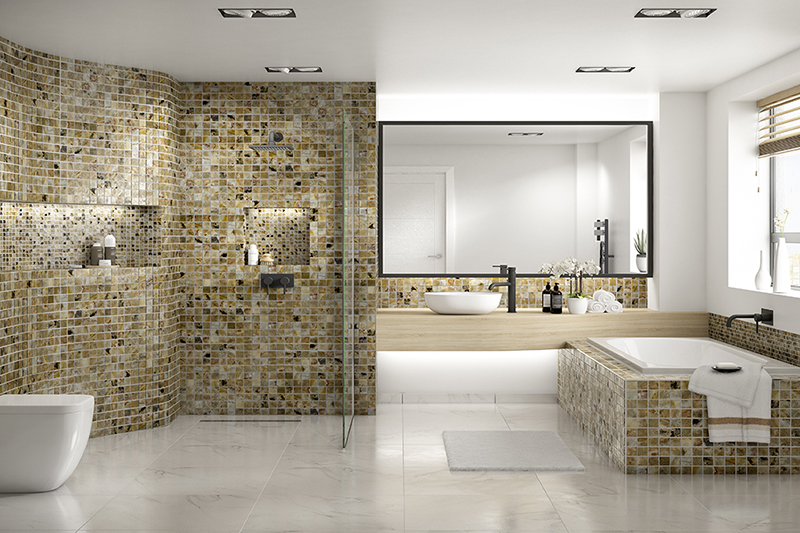 Marmox is promising infinite design opportunities for its Slicedstone Mosaics.
Q. Where does the Slicedstone range fit into the current Marmox portfolio and what is its appeal?
Thanks to products like our waterproof Multiboards, and the highly adaptable Showerlay membrane, Marmox has long been synonymous with quality bathroom and wetroom solutions. The Slicedstone range offers reliability coupled with visual appeal across a range of residential and commercial settings, including bathrooms and wetrooms, sports and leisure complexes, spas & wellness centres – and recently, even a dog grooming parlour in Kent.
Q. We understand there are some very modern manufacturing processes involved…
The tiles are laser-cut from beautiful Indian sedimentary rock, backed with a decoupling waterproof membrane, ensuring the individual tiles are precisely spaced at 3mm for consistent neat grouting. The Slicedstone range is supplied in easy-to-handle rolls, which are 80% faster to install, require 60% less grout and come with a reassuring 10-year guarantee. With a choice of 10finishes, the 4mm thick tiles' faces have been treated with a clear polycarbonate solution to create a stable surface that is waterproof, stain resistant, UV stable and allows for the easy removal of adhesive and grout residue after application.
Q. What designs are available and what can be achieved on a project?
The palette of stone colours consists of Bronze, Copper, Mars Stone and Sea Stone, Graphite, Autumn Leaf and Beige, as well as Slate, Lava Stone and Slate Lava Stone. Installers can select from 25x25mm or 50x50mm; while the lightweight rolls measure 500×1,000mm or the installer can opt for 300mm square sheets, all of which adds up to considerable freedom of design expression. The sizes can also be mixed or matched, the colourways the same, and the mosaics can be applied to walls, ceilings, floors, and shelving. Additionally, the tiling can be applied over all flooring substrates, including across underfloor heating. In addition, the riven finish of the stone means that it can be used for non-slip steps, on shower floors – and flooring more generally.
Q. How about support for installers from the manufacturer?
For the specifier or specialist sub-contractor seeking guidance around installation and site preparation, Marmox can provide a full technical backup service, which can stretch from simple design ideas and tips on preparing the substrate, to extensive on-site support and guidance for both the residential and commercial sectors.