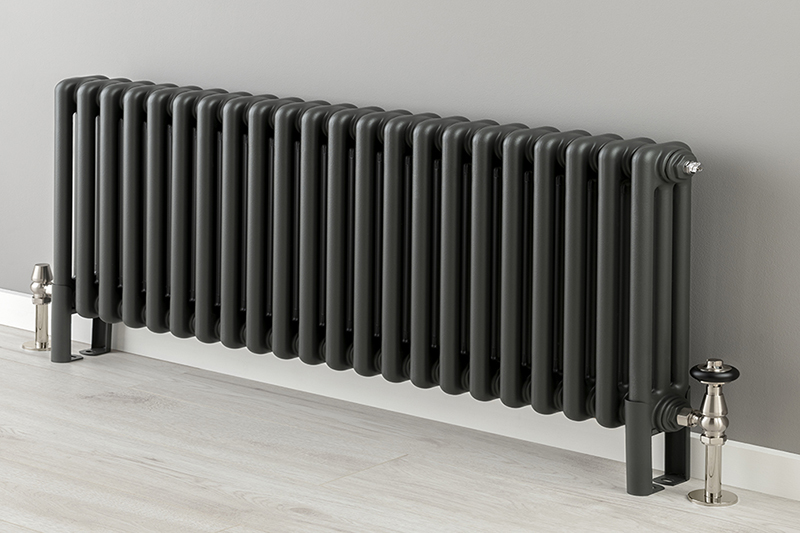 Supplies4Heat outlines some of the latest trends to be aware of.
Radiator choice must, of course, offer the functionality and performance to meet the heating requirements of the room, but with more focus on the impact that radiators can have in interior spaces, designer models that connect with design and property trends are rising in popularity. This presents an opportunity to upsell and add value to projects, as well as pleasing customers with statement radiators that offer wow factor and generate positive word of mouth.
Dark times
With interiors now incorporating more colour, the use of black appliances and features can offer a neutral backdrop to complement any palette, add depth or blend with an already dark and dramatic interior. Black is a classic design colour and high volumes of radiators and towel rails continue to be requested in this hue, particularly with a matt finish. Matt black evokes a sophisticated, luxury feel and can happily sit alongside other materials such as metallics, wood and stone, making it an ideal choice for modern, layered spaces and spa-like bathrooms. For customers looking for a softer alternative to black, anthracite and dark to mid-tone greys such as Grey Olive and Traffic Grey are also a popular choice for column radiators and towel rails, and can elevate the ordinary flat panel beyond conventional white.
Modern column
What was once perceived as a style limited to stately homes, period properties and old public buildings, column radiators are enjoying a surge of interest thanks to the character they bring to any interior. Steel column radiators achieve the nostalgic aesthetic of the column style traditionally associated with cast iron by using a lighter material, so they can be applied in any home – new and old. For example, the Cornel Range is a popular collection thanks to its versatility and visual appeal.
With leading manufacturers offering a wide choice of widths, columns and heights coupled with different colour finishes and textures, steel column radiators can be customised to present a solution to match every interior and design brief.
Sustainability
Sustainability and environmental impact are emerging decision-making influences. Here, radiators manufactured from aluminium tick a number of sustainability boxes to make your customers aware of. Aluminium is classed as a 'superconductor' and uses lower water content than its steel or cast-iron counterparts, meaning it heats up incredibly quickly and responds rapidly to thermostatic changes. As a result, less demand is placed on the heat source, which means less energy is used. Furthermore, aluminium works well with low water temperatures, making it a great match for renewable heating sources such as solar or ground source heat pumps, and it is fully recyclable at the end of its useful life.
Small spaces
With new rooms and living spaces being fabricated out of the smallest corners of homes and gardens, largely driven by working from home and lockdown measures, heating solutions literally need to measure up when wall space is at a premium. There has been a significant increase in orders for models that are suitable for such spaces and slimline and tall, vertical models can offer more flexibility in these scenarios without compromising on heat performance. The Beaufort Slim, for example, is a space saving vertical radiator with an installed projection of just 79 to 89mm from the wall for single formats.
When finished in a colourful shade, vertical radiators can also add a significant style statement to the room. This format works brilliantly for design schemes where colour is being used to create an interesting focal point or accent.
Ultimately, with any recommendation, radiators must be able to meet the heat requirements of the room with the correct BTU. To provide this reassurance, radiators and towel rails must be UKCA approved and certified to BS EN442 by an accredited laboratory that takes part in the RADMAC scheme.
Part of the IRSAP Group and a member of MARC, all Supplies4Heat products are fully certified and backed with comprehensive guarantees.