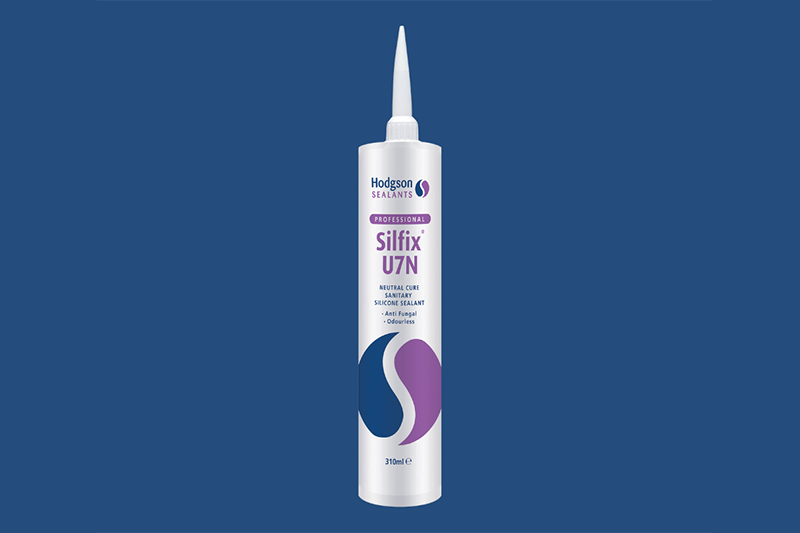 Hodgson Sealants has launched a neutral cure, alcoxy, solvent-free sanitary sealant, Silfix U7N. The new low-odour, neutral cure version offers a user-friendly sealant for use in confined spaces without compromising on performance, appearance or gunability.
Silfix U7N is designed to offer excellent adhesion to most non-porous surfaces, making it suited to sealing around baths, sinks, urinals and ceramic tile joints to give a water-resistant, hygienic seal. It is also suitable for application to various surfaces including PVCu, coated timber, brickwork, concrete, GRP, stainless/galvanised steel, aluminium and lead as well as on natural porous surfaces, making it a great all-round sealant for modular and pod building, particularly sealing dissimilar surfaces. Resistant to ozone, ultra-violet radiation and temperature extremes, Silfix U7N will keep  its original good looks for years after application.
Not only does Silfix U7N's specialist formulation ensure a tough, watertight seal, its proven fungicide resists mould and mildew growth. It conforms to EN15651-1: F-EXT-INT-CC and EN15651-3:S.
Silfix U7N has a fast cure and tack-free time and remains permanently flexible with a movement capability of ±25 with lasting performance and low shrinkage. It is available in translucent and white in 310ml cartridges.