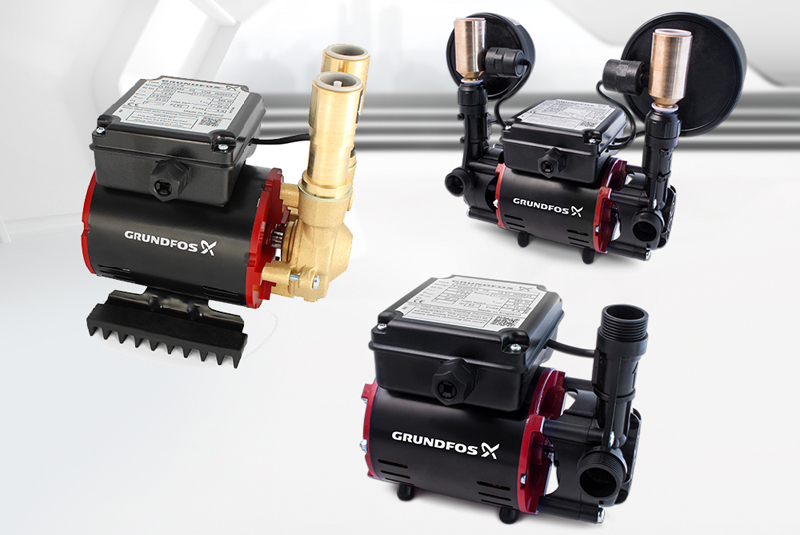 Grundfos explains how its product range goes far beyond just heating circulators and offers a whole host of pump technologies to suit multiple applications.
At Grundfos, we are proud of our reputation for supplying many homes in the UK with heating circulators, but did you know that the complete portfolio is much more extensive? We accept that these products may not be as well-known as the Grundfos UPS and ALPHA heating circulator ranges but we think you might be surprised at how broad the range is.
This comprehensive range of products is designed to be ideally positioned to provide you with the ultimate pump technology to match many various demands. This means that throughout the entire home, Grundfos can offer solutions that will deliver the optimal pump option that is reliable, innovative and can be installed with minimal fuss.
A cut above
Take for example the SOLOLIFT2 family. These macerators deliver a powerful, reliable and service friendly operation. Combine this with easy installation and ongoing maintenance that does not require getting your hands dirty and you can see why we say that this range is a macerator solution that is at the cutting edge.
These pumps will collect and pump the wastewater from a range of sanitary or domestic appliances via a thin (>23mm) transfer pipe to a conventional downpipe up to 6m high or 100m distance away. Through optimising performance, the SOLOLIFT2 range performs this with just 5 variants.
Regardless of whether you need to replace any model of macerator or have a new domestic sanitary application such as a new toilet, shower, or a new bathroom or utility room where there are pipework limitations – the Grundfos SOLOLIFT2 has the answer.
Down the drain
Being left high and dry is something that is not normally something that anyone would want to aspire to. However, there are some circumstances both within as well as around the home and garden that will require the successful removal of non-aggressive water, drain water or grey wastewater. When you have such a demand, you will require a submersible drainage pump to successfully resolve the situation and remove the unwanted liquid.
Grundfos can help as it has a wide range of submersible pumps which, through their robust design and reliable operation, will support many drainage scenarios – such as the lightweight Unillift CC range, which is engineered from composite materials with a stainless-steel strainer, virtually maintenance free, and the preferred solution for a range of applications.
Then there is the Unilift KP stainless-steel family, these are the preferred solution for many situations including those involving effluent from domestic septic and sludge treatment systems or when there is a greater demand. The Unilift AP can cope with a flow rate of 9.44l/s and an 18m head.
When gravity needs a hand
The condensate from dehumidifiers, air-conditioning systems, commercial cooling systems and condensing boilers can be a problem when it cannot be removed by natural gravity. There is, however, a straightforward solution provided by the Grundfos CONLIFT range.
Comprising just two models, the CONLIFT1 and the CONLIFT1 LS, both variants are supplied with an integrated NC/NO contact and cable so that if the overflow switch detects a high-water level, this can be used to switch off the boiler.
The advanced design means they will operate automatically when condensate enters the collection tank from an appliance. The units then lift the condensate up to 5m in height and across a distance of several metres to the required drainage point. Another plus is that these units require minimal maintenance. The motor/pump unit can turn 180o on the tank which increases the flexibility of the installation process, a situation which is enhanced by the four symmetrical inlets that means the unit can be connected from any direction.
Thanks to the modular system, both CONLIFT1 and 1 LS can be upgraded with either an alarm PCB and/or neutralisation unit which can be retrofitted in case changing conditions require this flexibility
A right shower
Then there is the Grundfos range of shower pumps. These continuously rated pumps minimise the turbulence within the pump head, which is a welcome feature. The SSR2 and STR2 ranges are positive head pumps for boosting water pressure – typically used in shower applications and the SSR2 and STR2 Universal options are positive and negative head shower booster pumps for boosting pressure where the outlet is at the same height as, or is above, the water storage tank.
Keeping the pressure on
Speaking of pressure, one of the newer kids on the block is the Grundfos SCALA2. These pressure boosting pumps are WRAS approved and each unit is a fully integrated water booster pump that will provide the perfect water pressure to up to eight water outlets – even with multiple taps and showers running at the same time. They combine the pump, motor, tank, sensor, drive and non-return valve in one package.
So, when you next think of Grundfos, think of a lot more than just heating circulators.
For more information, visit www.grundfos.co.uk.