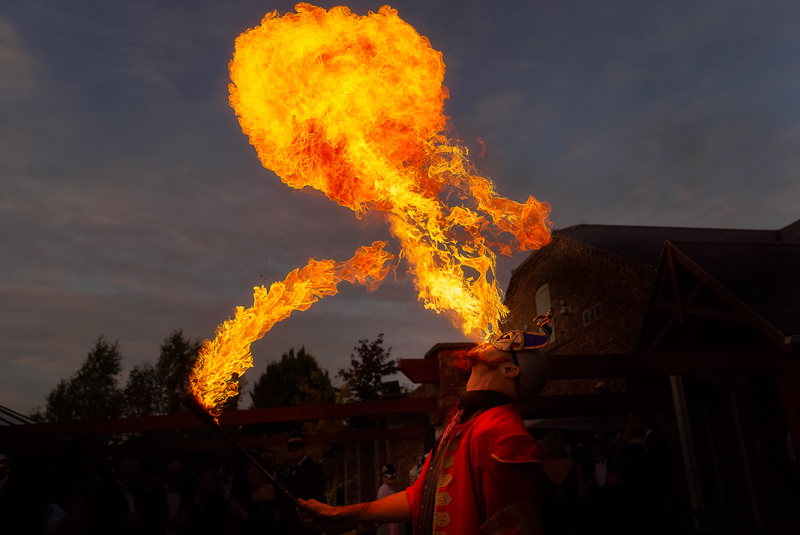 Aico hosted a charity Masquerade Ball on Saturday 22 September in a bid to raise money for the Electrical Industries Charity (EIC).
Over two hundred guests from across the UK were welcomed to the Lion Quays Hotel and Spa, Shropshire, by fire eaters and stilt walkers. As the evening progressed money was raised via a raffle and silent and live auction.
Neal Hooper, Managing Director of Aico, announced during the evening that the sum of £11,000 had been raised, but that in addition to this Aico would be doubling the sum raised to give a final total of £22,000 for the EIC.
The EIC is the national charity for the electrical, electronics and energy industries. It aims to look after people from these industries whenever they or their families need help with life's challenges. It provides information, financial grants and practical support on a range of everyday issues including work, family, relationships, money and health.
Tessa Ogle, CEO of the EIC, said: "As an industry we are incredibly fortunate to have our own charity. This year the charity supported over 7,000 cases with financial and practical services, giving back over £1 million to the industry. It is only because of the support we receive from the industry that we can continue to operate. I would like to say a huge thank you to every single member of the Aico team and all those in attendance from industry at the masquerade ball for their incredible efforts to raise funds for EIC. The money raised by Aico will help us to provide crucial mental health support services to thousands of apprentices, industry professionals and their families within the electrical and energy related sectors who are faced with the most challenging times of their lives."
Neal added: "We would like to thank everyone who attended for their kind generosity during the evening, we would also like to thank local and national companies for their kind support and donation of prizes, with particular thanks going to Edmundson Electrical, Rexel, CEF, Moss Electrical, KEW Electrical, Medlock Electrical Distributor, Eyre & Elliston, BEW Electrical Distributors and LEW Electrical."
Gary Moore, Sales Manager for Charisma Design & Print, who donated a prize for the evening and attended, commented: "I would like to congratulate everyone at Aico for a wonderful and worthwhile event on Saturday evening, I thought that the whole thing was amazingly organised and excellently hosted."
Aico has made a commitment to working with charities via its community initiative, Aico in the Community, for more information or to contact Aico for support with any initiatives or events, contact Emma Ferguson on 01691 6644100.