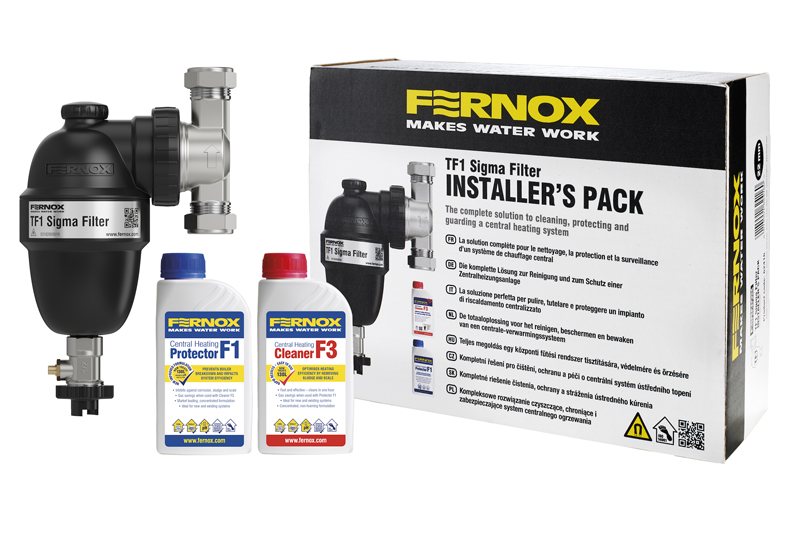 Fernox has unveiled its new TF1 Sigma Filter Installer's Pack, which comprises the TF1 Sigma Filter with slip socket connection and the enhanced reformulated Cleaner F3 and Protector F1 500ml product.
The 3-in-1 handy pack is designed to ensure installers have everything they need to clean and protect a domestic heating system.
The TF1 Sigma Filter has been precision engineered from a composite polymer for improved strength and reliability. It combines Hydronic Particle Separation (HPS) technology with a powerful magnet to ensure both magnetic and non-magnetic debris is captured and prevented from depositing within the boiler to cause premature breakdown or failure. The filter also benefits from a sealed, lidless design. Having no lid reduces ongoing servicing and labour costs as there is no 'O' ring to replace each year. A compressed 'O' ring, which needs changing, may compromise the watertight reliability of a lidded filter whereas the integrity of sealed filter design eliminates that risk.
Also included in the pack is the Fernox Cleaner F3. This is a high performance, non-foaming chemical cleaner that has been reformulated to clean larger volume systems up to 130 litres, 16 radiators or 250sqm of underfloor – so for 97% of all UK housing stock only one bottle is required to clean the system. The product starts to work after an hour and can be left circulating in the system for up to seven days prior to flushing. Effective against dirt and sludge, this universal cleaner removes debris that would otherwise block pipes or become trapped within the boiler, damaging vital components.
Once clean, the system is ready for dosing with Protector F1. This reformulated chemical inhibitor offers greater pH buffering and combines three different types of active inhibitors to form a protective barrier between the system metals and water – preventing electrolytic corrosion from taking place and stopping the build-up of sludge and limescale long-term.
Francine Wickham, Fernox Global Marketing Director, said: "Following the success of the TF1 Omega Installer Pack and responding to market feedback, it made sense to offer a pack option for the plastic version of the market leading sealed brass filter with the introduction of TF1 Sigma Installer's Pack."