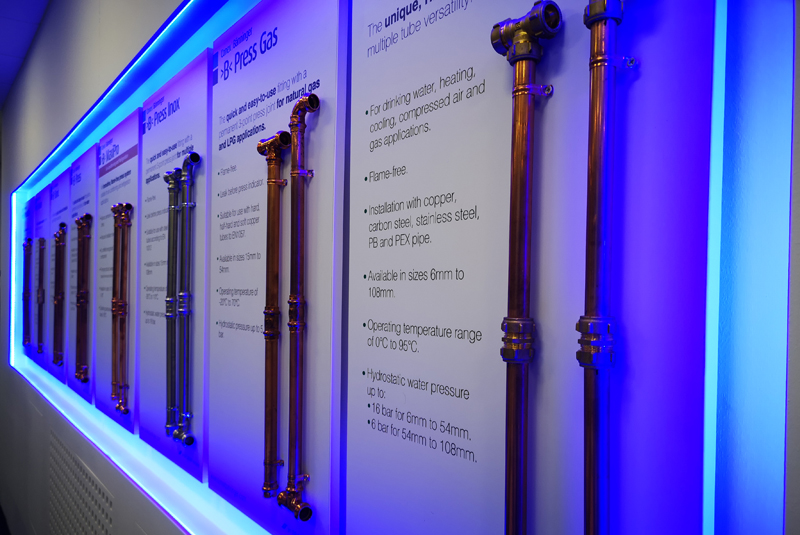 Conex Bänninger has further enhanced its support for installers and heating engineers by investing in a new training centre.
The centre, at its international headquarters in Kingswinford, West Midlands, features lecture and demonstration areas, with an overhead camera that enables practical demonstrations to be projected onto a large screen.
There is also an informative wall-mounted display of the manufacturer's expansive fittings range that can be easily updated as new products are developed.
Dan Wild, Conex Bänninger Business Unit Director for the UK and Ireland, said: "As more and more installers are becoming aware of the advantages that press fittings have over traditional brazing, the demand for training in this flame-free, fit-and-forget technology has risen.
"By spending just a couple of hours they can learn new skills and gain hands-on experience that will benefit them for years to come."
The sessions are led by members of Conex Bänninger's technical team and cover theoretical and practical training. The training also features the company's newly CIBSE-approved CPD on press-fit solutions and materials for the future.
Dan Wild added: "The opening of the new training centre represents a further investment by Conex Bänninger in the future of the industry. It is a practical way of supporting installers and heating engineers to stay up-to-date with current methods and practices, while raising professional standards across the sector.
"We will still continue to provide training on-site and in conjunction with our customers, this is another option."
Conex Bänninger's >B< Press copper fittings, for use with hot and cold water applications, have the benefit of a three-point-press, with one mechanical press either side of the bead and a third, hydraulic, press that compresses the O-ring to complete a secure, long-life, leak-free joint.
They also include a leak-before-press indicator, which allows the fitting to leak at low pressure, identifying any un-pressed joints. It removes the need to go to full test pressure to check that all fittings have been pressed.
Training is also available for ACR engineers for Conex Bänninger's >B< MaxiPro range, developed specifically for air conditioning and refrigeration applications.
To book a free training course, email [email protected]