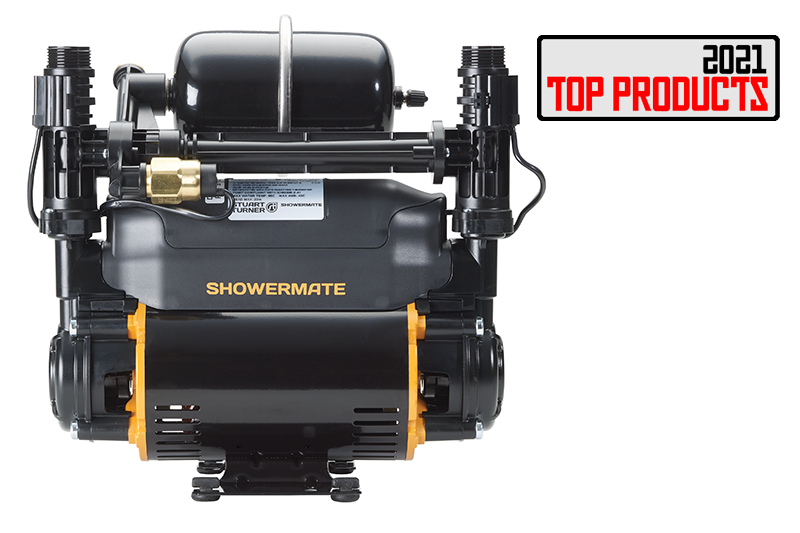 Improved shower performance is a desire of many homeowners and shower pumps are familiar territory for most plumbers. A familiar name for many in the sector, Stuart Turner recently launched a new Showermate range of bathroom and shower pumps. The company's existing Showermate range of shower pumps – which previously consisted of Showermate, Showermate ECO and Showermate TP – has been rationalized in-line with the development of the new range.
The new design, which the company believes is a 'high performing, high quality shower pump', is available in three performance options; 1.5, 2.0 and 2.6 bar, universal or standard and twin or single models.
Quiet operation
As with other Stuart Turner products, Showermate is classified as 'Quiet Operation' – anti-vibration feet are included in the design to reduce noise transmission further. The pumps are continuously rated, feature automatic switching and come with flexible 15mm x 205mm, push-fit anti-vibration hoses with ¾ BSP threaded connection to the pump.
The Showermate range complements the existing, established range of Monsoon pumps to give a wide offering for installers. Fully supported by the company's TechAssist Team, the new Showermate range carries a three year warranty and are available nationwide.
Loyalty Club
Monsoon and Showermate pumps are also eligible for the company's Installer Loyalty Club. Each pump installed automatically accrues points for the installer when registered with the loyalty program. The program is designed to reward installers of Stuart Turner domestic product and plumbers can earn points straight away by signing up.