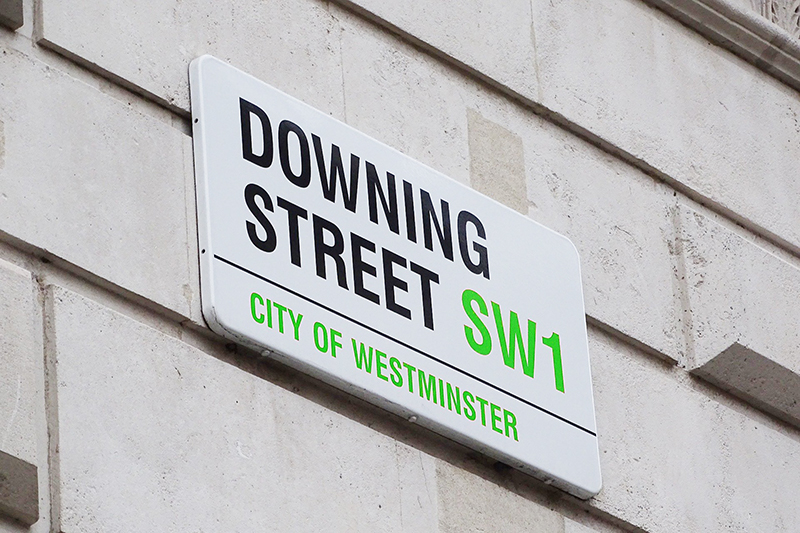 The Prime Minister has set out his 10 point plan for a green industrial revolution which will create and support up to 250,000 British jobs.
Covering clean energy, transport, nature and innovative technologies, the Prime Minister's blueprint seeks to allow the UK to forge ahead with eradicating its contribution to climate change by 2050.
The plan will mobilise £12 billion of government investment to create and support up to a quarter of a million highly-skilled green jobs.
At the centre of the blueprint are the areas such as the North East, Yorkshire and the Humber, West Midlands, Scotland, and Wales, which will build green jobs and industries of the future.
Among the 10 points are:
Offshore wind: Producing enough offshore wind to power every home, quadrupling production to 40GW by 2030, supporting up to 60,000 jobs.
Hydrogen: Working with industry aiming to generate 5GW of low carbon hydrogen production capacity by 2030 for industry, transport, power and homes, and aiming to develop the first town heated entirely by hydrogen by the end of the decade.
Homes and public buildings: Making homes, schools and hospitals greener, warmer and more energy efficient, whilst creating 50,000 jobs by 2030, and a target to install 600,000 heat pumps every year by 2028.
Boris Johnson said: "Although this year has taken a very different path to the one we expected, I haven't lost sight of our ambitious plans to level up across the country. My Ten Point Plan will create, support and protect hundreds of thousands of green jobs, whilst making strides towards net zero by 2050.
"Our green industrial revolution will be powered by the wind turbines of Scotland and the North East, propelled by the electric vehicles made in the Midlands and advanced by the latest technologies developed in Wales, so we can look ahead to a more prosperous, greener future."
Up to £500 million of new investment will be made available for the hydrogen component, including for trialling homes using hydrogen for heating and cooking, starting with a Hydrogen Neighbourhood in 2023, moving to a Hydrogen Village by 2025, with an aim for a Hydrogen Town – equivalent to tens of thousands of homes – before the end of the decade. Of this funding, £240 million will go into new hydrogen production facilities.
Industry reaction
Simon Lomax, CEO of the Kensa Group: "The target of 600,000 heat pumps per year is encouraging but it is now vital that this Government quickly introduce policies that will allow the supply chain to maintain recent momentum. Over the past 18 months, Kensa has hired 70 additional staff but the planned closure of the non-domestic RHI in March 2021 means there is real risk that social housing clients won't be able to continue with their ground source heat pump installation programmes.
"Kensa has focused heavily on high rise social housing and it is critical that the Government acts quickly so that some of the most vulnerable in society can benefit from low cost and low carbon heat. Finally, it would be helpful if the Government publicly recognised that Cornwall, one of the poorest areas in the UK, should be included along with the Northern regions as a significant beneficiary of the planned investment."
Darren McMahon, Viessmann UK Marketing Director: "Viessmann especially commends the strong focus of the plan on heating efficiency and decarbonisation. Heating is hard to decarbonise – as evidenced by the limited progress over the past 10 years – and government intervention is key for success. Therefore, we fully support the allocation of £1 billion next year to extend the Green Homes Grant and deliver a Public Sector Decarbonisation Scheme, as well as the provision of up to £500 million to trial hydrogen applications, including for heating.
"The Green Homes Grant has been well-received but criticised for having too short a window to have any meaningful impact. Pent up demand from homeowners from the first lockdown period means the nation's heating installers are already well booked up as we enter the traditionally busy heating season. To compound this further, Green Homes Grant vouchers are being issued very slowly and installations are inevitably delayed. Around 30% of installations of Viessmann heat pumps are currently tied up, waiting for vouchers to be issued. An extension to the scheme by 12 months will ensure that these projects and installations can be realised, and are open to more of the population, not just the early adopters.
"If the heating market is to achieve the level of radical change set out in the plan – 600,000 heat pumps installed every year by 2028 – this type of support for decarbonised and efficient heating is essential. We expect the Government will need to follow through with further brave interventions to tighten new build and retrofit regulations for heating systems, as well as a plan to encourage installers to upskill for new technologies. This decade is a make or break period for decarbonisation from heating and the plan sends a positive signal to the market for change."
Mike Foster, Chief Executive for EUA:"The measures that the Prime Minister has outlined to support hydrogen are a significant move towards creating a stable hydrogen economy in the UK. The plans to create a hydrogen town will give investors' confidence and a clear sense of direction."
"EUA and its members are poised to help deliver these projects and assist the UK to become a world leader in decarbonisation. We have long advocated for hydrogen to be recognised as having a key role in decarbonising our energy system, and we are pleased that Government now supporting these efforts."
"The increased commitment towards energy efficiency measures and low carbon heating should also help the industry plan and invest in the future. However, we hope that BEIS will look at the governance of this scheme to make it easier for heating engineers and small companies to access, reducing the red tape would be a good first step."
Karen Boswell, Managing Director of Baxi Heating: "Future generations will judge us by our actions. Our pledge is to be carbon neutral in all our operations by 2030, and to lead the phase-out of carbon intensive heating by ensuring every product we make from 2025 will work with low carbon energy.
"It is our vision to be a sustainable leader in the heating and hot water sector, today and tomorrow. We have a responsibility to tackle climate change not only for ourselves, but for future generations. This doesn't stop at our products, but also how we operate as a more efficient and environmentally conscious business.
"Delivering cleaner and greener heating systems is fundamental to achieving net zero and it will also be central to the growth of our business over the next 10 years. The bottom line is that our customers desire sustainable, affordable and reliable warmth – particularly during this period of economic uncertainty."
Graham Wright, Chairman of the HPA: "As we have stated in our recent report, there is no 'silver bullet' solution to the decarbonisation of heat. However, as the Committee on Climate Change has already stressed, heat pumps are an established technology and can provide one of the solutions for an urgent and widespread shift to low carbon heating and must be supported immediately. This plan is therefore welcome news for the heat pump industry as it does appear to agree with our recommendations.
"We also recognise industry's need to make the required heat pump installation training widely available. This is something the HPA is also committed to and the Government's plan makes it clear there will be new jobs created in order to help carry out this move to greener technology."
Chris Jackson, Chair of the UK Hydrogen & Fuel Cell Association and CEO of Protium: "It's fantastic to see the Prime Minister committing to the incredible opportunity that hydrogen can provide for decarbonising the UK economy. It is essential that the UK capitalises on its rich expertise and heritage in the production, storage and use of hydrogen, especially for hydrogen in the heating sector and for transportation.
"It is crucial, however, that the Government ensures green hydrogen, and notably electrolysis, is front and centre of the hydrogen sector. The ability to use sun, wind and water to decarbonise the UK energy sector is one of the most tangible examples of how science and innovation can overcome some of the greatest challenges we face.
"We look forward to supporting the Prime Minister and taking the hydrogen sector forward."