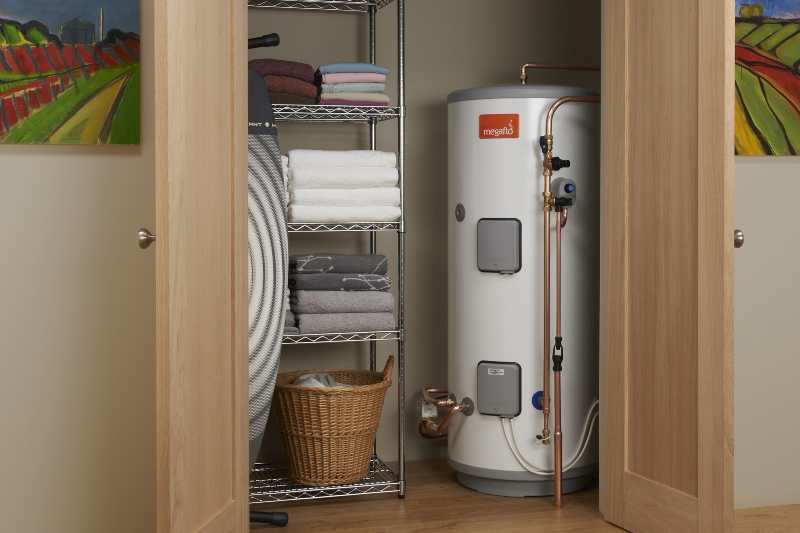 George Linder, Product Manager for cylinders at Heatrae Sadia, shares how the Ubiquitous Storage Empowering Response (USER) project, could change how domestic hot water cylinders are used to reduce energy bills, improve efficiency and help to balance the national grid.
The USER initiative is a demonstration project being undertaken by a group of organisations within the low carbon energy sector, including Heatrae Sadia (part of Baxi Heating), Levelise, Ecuity Consulting, Energy Systems Catapult and Durham University. The purpose of the project is to collect data and consumer insights to inform the technology's commercial proposition and the UK's trajectory towards a smart energy system.
Essentially, the premise of USER is that by connecting new or existing hot water cylinders to the grid with a smart interface unit, this then enables the hot water store to become a grid interactive storage heater, to heat hot water when there is low cost electricity available. With wholesale electricity prices sometimes dropping to zero, or even negative values, this could in some instances lead to households being paid to use electricity.
In the case of a new build estate, with a large network of properties all using the technology, demand side response capability could also be aggregated and offered to networks to help alleviate local grid balancing issues. This has a two-fold effect of saving money for the user and helping with grid management.
To trial this, Megaflo Eco cylinders have been provided to help facilitate trials for the USER project and test demand side response. At the moment, hundreds of British households who are part of the trials have had smart hubs installed and connected to their hot water cylinder's immersion heater, in order to sync with the smart grid. With no need for any complicated switchover, or requirement for the homeowners to collect data, the project has so far been a success.
What does this mean for installers?
For installers, depending on how the technology is implemented either directly via hot water cylinder manufacturers or via the route of energy providers, this could mean a few different outcomes. Essentially, the installation should still be very straight-forward if the interface is attached to the cylinder, or could even mean no change for the installation at all if energy providers decide to deploy USER by an alternative means.
By 2021, Baxi Heating will have contributed to the findings report of the USER project. The results of this research could enable a business model to position how the programme could work on a national scale. With around nine million hot water cylinders currently in use throughout the UK, there would then be potential to tap into this vast combined thermal storage capacity.