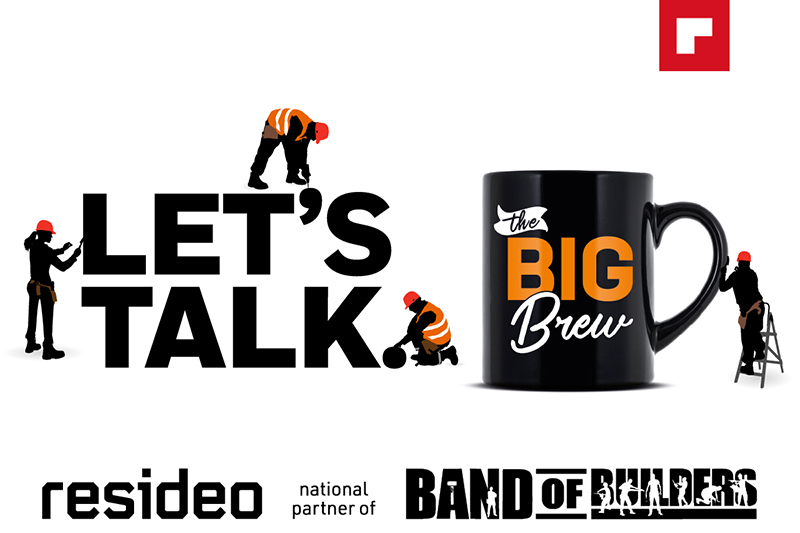 With the busiest period of the year for heating engineers looming, ensuring installers consider their own mental wellbeing takes on even greater importance. Knowing where to turn to is part of the battle, so Resideo is lending its support to national charity, Band of Builders, which aims to help tradespeople when they need it most.
Resideo has a programme of events and fundraising in place that will run right across the heating season and into 2022 – kicking off this month with sponsorship of the charity's Big Brew events, designed to give tradespeople somewhere to meet others and talk.
Until 22nd October, Resideo will be onsite at merchants across the country, providing somewhere to pop in for a chat with your local Resideo sales representative, grab a cup of tea and to find out more about the support Band of Builders offers. Full details can be found at www.resideoinstallertoolbox.com/bigbrew
Resideo will also be donating £1 to Band of Builders for each Honeywell Home product purchased over £50 at these events to further support its projects.
Martin Wilson at Resideo said: "We know some tradespeople can often go for days without talking to anyone, which can be so isolating. However, even on the busiest of construction sites, many tradespeople can find it a struggle to talk about their worries or issues. The shocking statistics relating to suicide amongst those in the construction industry show that there is a genuine need to support those working across the sector and provide safe spaces to share concerns. Knowing someone is out there to provide help is so important and we are delighted to be giving our support to the work Band of Builders carries out.
"Hosting a series of Big Brew events is the first activity we have in place, and we hope installers will pop along to join their Resideo sales representative for a cuppa and a chat. We'll also be donating money for each Honeywell Home product over £50 we sell during the events, so installers will be helping ensure more good work can be carried out by the charity in the future."
Peter Cape from Band of Builders commented: "We are pleased to have Resideo on board to spread the word about the Big Brew and to help support our ongoing projects going forward. Getting together to talk can make such a difference to our mental well-being but can so often be overlooked when times get tough or busy. It is also great to see companies like Resideo able to get back on the road and meet people. We hope people will take the opportunity to join one of Resideo's or the many other Big Brew events taking place all over the country."
The Big Brew events mark the start of Resideo's support for Band of Builders with further opportunities to get behind the charity planned for the coming months.