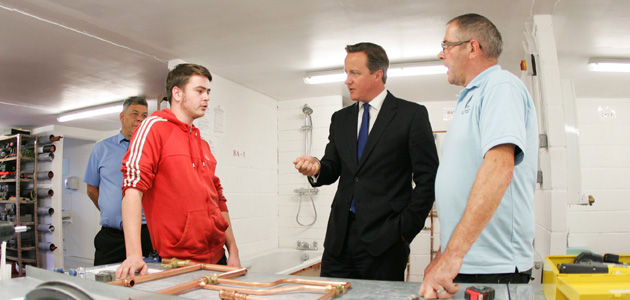 David Cameron visited Oxford Energy Academy in Witney on Friday 10th October to officially open the new BPEC accredited Apprentice Training Centre. The Prime Minister toured the purpose-built Training Centre and chatted to Pre-Apprentice Level 1 and Apprentice Level 3 students, who all said how much they enjoy going training at Oxford Energy Academy.
Mr Cameron was interested to learn that one of the Pre-Apprentices has recently secured a placement with local company Thompson Plumbing and Heating due to his training at Oxford Energy Academy. Level 3 Apprentices (employees of local firms: Steve Cross Plumbing and Heating, MPN Heating, MJ Few Plumbing and Heating, Stuart Parsons Plumbing, and FJ Aldens) showed Mr Cameron the gas rate tests and combustion analysis they were working on.
During his visit, Mr Cameron also toured Oxford Energy Academy's specially designed workshop facility which is used for training existing engineers in Gas, plumbing and renewable energy. After cutting the ribbon he chatted with the Directors, Chris Foley and David Bendell about the future training needs of the local plumbing industry due to the increased demand for more energy efficient systems.
Company Directors explained how the company, which employs 12 people, is situated in a building heated purely from air source heat pumps and the electricity used is generated from solar energy. He asked the Apprentices if they were warm enough and was impressed by the economic advantage of using these systems.
Mr Cameron said "Apprenticeships can be a big part not just of tackling unemployment but also in making sure our economic recovery is for all and that is why centres like this one set up by the Oxford Energy Academy are so important. I have very much enjoyed my visit today and wish you all the success for the future".