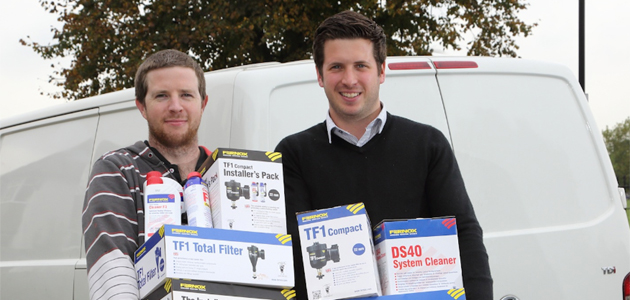 Fernox has named the latest monthly winner for its 50th Anniversary Promotion as Duncan Rawlings and awarded him a £600 bundle of products, giving his new start-up business, the Acton-based Duncan Rawlings Plumbing and Heating, a real boost.
Owner Duncan explained: "I literally started the business six months ago and am focusing on private gas central heating work, which is mainly generated through word of mouth so winning this prize really is fantastic.
"I use Fernox because it is a tried and trusted brand that I know I can rely on. I particularly like the Fernox TF1Total Filter for its ease of use. The filter is great with the drain-off facility and it also features high quality isolation valves.
"This was the first code I'd tried to enter so I was really surprised and very pleased to find out I'd actually won. It will make a big difference to me getting started  on my own. I'd be so happy to win the grand prize of £50,000 worth of plumbing and heating products. I've got my fingers crossed!"
Installers who purchase any special promotional pack from the Fernox range of cleaners and   in-line system filters could be a winner. The Fernox 'Win £50K of heating products prize draw     closes on the 30th November 2014.
For further information, visit: www.fernox50.com.