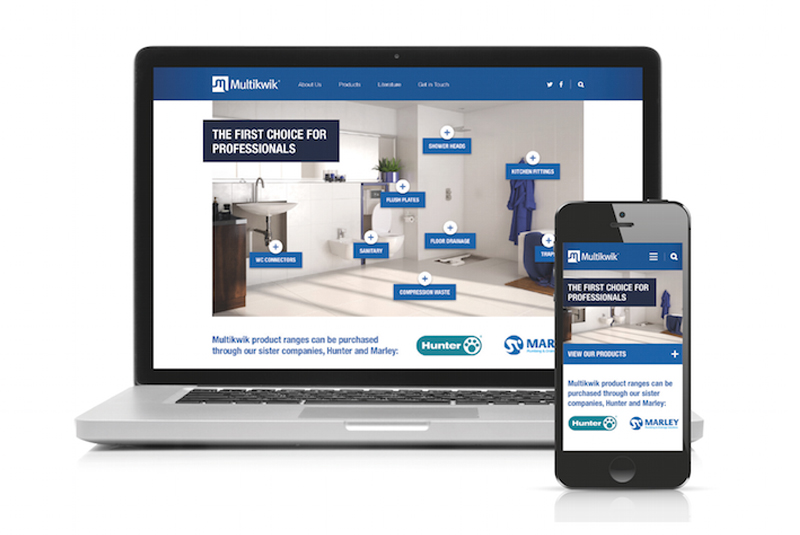 Multikwik has launched its new streamlined website, which provides visitors with an overview of the products available and acts as a portal to its sister companies' – Hunter Plastics and Marley Plumbing & Drainage – websites, where further assets and downloadable literature are available.
With Multikwik ranges available through either Hunter or Marley, the new site has been designed to replicate this model. The simply-designed site provides an easy-to-navigate overview of the Multikwik products, with the functionality to then click through to either the Hunter or Marley websites, when it comes to compiling a requirements list. This means a consolidated list across both brands can be created, which can then be downloaded, emailed or sent to the estimating team who will then provide costs, as well as details of local stockists.
The new site is fully responsive, enabling remote access via a tablet or mobile phone. There's a useful interactive bathroom image on the homepage, giving an instant view of the Multikwik product portfolio, and users can click on each element, such as WC connectors or traps, to view more product details.
CAD files and Declaration of Performance details can be sourced by just clicking through to the Marley website, whilst the literature that has been added to the Multikwik site has been made easy to download and clear to read.
Kathryn Legg, Marketing Services Manager from Multikwik, said: "Our new Multikwik website has been designed to work hand in hand with either the Hunter or Marley websites, in the same way as the products do on site. Visitors will be able to get all the information they need in just a few clicks and seamlessly pull together requirement lists that encompass everything they need for the job in hand."
To see the new website, go to www.multikwik.com.