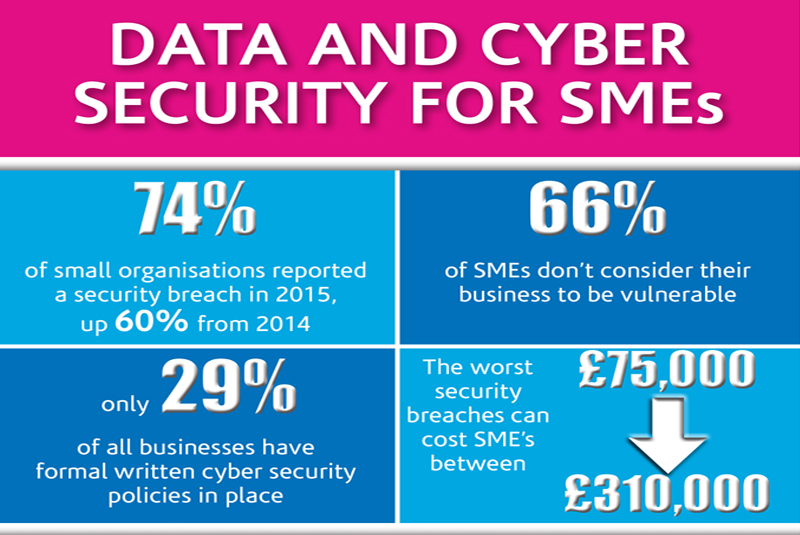 With reports indicating that 74% of small businesses reported a security breach in the past year alone, The International Institute of Risk and Safety Management (IIRSM) has launched a Practical Guide for SMEs in collaboration with Zurich on how to implement an effective cyber security plan.
From May 2018, the new EU Data Protection Regulation (GDPR) will come into force which will require all businesses to demonstrate greater accountability and planning for their cyber security processes. A significant change resulting from the Regulation is that larger fines, dependent on turnover and the type of failing involved, will be incurred by businesses that breach the regulations.
SMEs are regarded as lucrative to attackers as their attacks can be quick and achieve the highest return for minimum efforts. In a recent survey conducted by the Government-run Cyber Streetwise campaign, 22% of people questioned admitted that they "didn't know where to start" when asked how they put in place an effective data security protection programme. The worst security breaches can cost SMEs between £75,000 and £310,000, and it is essential that reliable information is made widely available to SME business owners on how and why to implement data security measures that comply with the GDPR.
The IIRSM Practical Guide now offers SME owners and their employees the support they need to feel better able to protect themselves and their business and ensure they are not overwhelmed. Developed in partnership with Zurich, it is an easy to use, detailed handbook on the key steps to take when putting a cyber attack prevention plan in place. From assessing the risk to your business and the types of data you hold, through to the practical measures you need to take to establish your plans effectively, the IIRSM Guide offers step by step advice on perfecting a layered approach to cyber security.
To download the IIRSM Practical Guide or to find out further information on cyber security from the APMG International whitepaper, 'Managing Cyber Risk', visit: www.iirsm.org/cyber-security