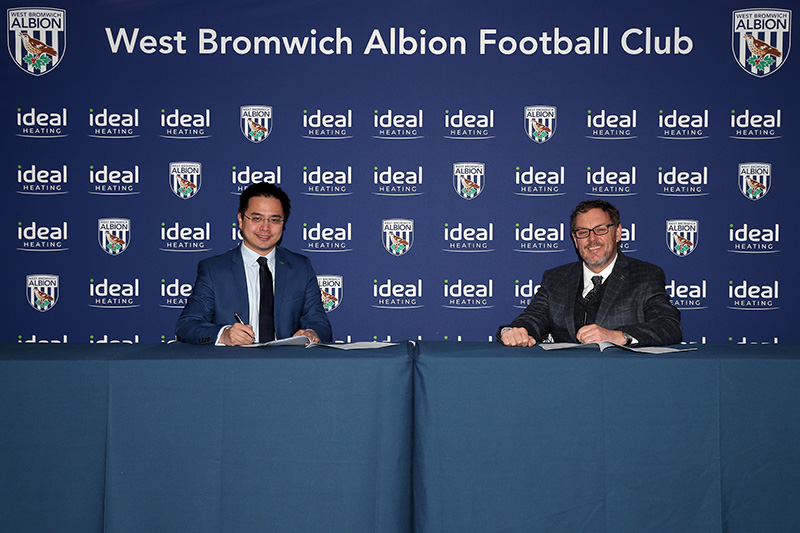 Ideal Heating has renewed its agreement as Principal Sponsor of West Bromwich Albion for another three-year term, making it one of the longest-standing partners in the club's history.
The agreement will see the Ideal Heating logo front and centre on club shirts for the next three seasons. The Ideal brand will also be prominent via significant branding within the Hawthorns, giving thousands of fans the opportunity to engage with Ideal at home games each season, alongside the millions that will be able to watch on TV from home.
Last summer, Ideal Boilers became Ideal Heating, to better reflect the business's wide range of products and solutions, and with the UK's transition to a low carbon future in mind – hence the new green dot on the i. At the same time, it launched its specialist environmental division.
To date, the West Brom partnership and subsequent Boilerman activity have helped to deliver significant gains in terms of brand awareness and consideration – driving consumer demand and supporting merchants and installers in the process.
Chief Executive of Ideal Heating, Shaun Edwards, commented: "We take our role as Principal Sponsor very seriously, but we also like to have a good time – which is why we get on so well with West Brom and its fans. Our legendary Boilerman character was born at West Brom three years ago, and is now centre stage in all our TV ads and installer materials.
"As well as being a part of the team's success over the past few seasons, we've loved getting to know local people, and will continue to focus on our charity and community work throughout this next term. We're incredibly excited to be back for another three years, and look forward to building on everything we've already achieved – for our brand, for the club and for our merchant and installer partners."
For more information, visit idealheating.com