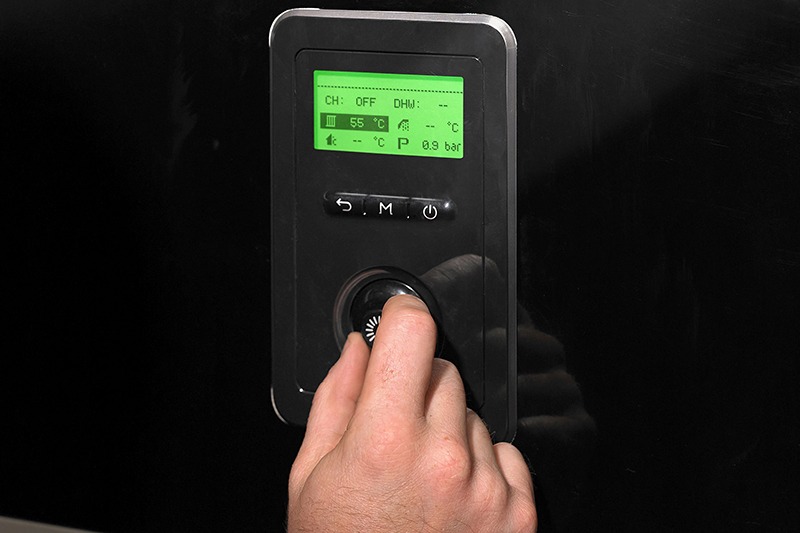 Sean Keleher, National Technical Manager at Navien UK, looks at the control aspects of a boiler installation and why installers should consider proprietary systems provided by manufacturers, including the latest smart devices.
When it comes to fitting a new boiler or heating system, or even refurbishing an existing one, there are many things for installers to consider. This includes the output and efficiency of the boiler itself, as well as other key parts of the system – especially the controls. After all, with so many new devices being introduced to the market, tech-savvy homeowners will be keen to utilise the latest technologies to ensure they benefit from reduced energy use, lower fuel bills and added peace of mind. As a result, awareness of smart heating controls is increasing, with AMA Research predicting that around 45% of all heating controls will be 'smart' by 2022.
Before exploring any high-tech gadgets, however, installers should first assess the controls already incorporated into the boiler itself, to evaluate the functionality available. One of the key aspects to consider in terms of controllability is whether a new boiler features a text-driven display. This ensures commissioning and servicing is simplified, as all the essential information – from setting the time/date, through to the complete set-up procedure – is all available at the touch of a button.
Then, from the end user's point of view, a clear text-led display is an effective means of conveying more information about the boiler itself, without having to consult the instruction manual. For instance, if a system requires a top-up, this can be highlighted on the display panel, making it simple for the issue to either be addressed by the homeowner or explained to the installer.
Clear communication
Of course, advances in technology mean many boilers are also supplied with separate control units straight out of the box. Utilising the manufacturer's own controls allows clear communication between all parts of the system; this ensures accuracy, reliability and convenience, as each component will be using the same digital 'language'.
The latest heating controls, such as Navien's own Smart Plus, have been designed with functionality, efficiency and end user comfort in mind. Weather compensation features have been added enabling a heating system to check the weather forecast and then adjust itself accordingly. Using Wi-Fi technology, boilers can check the forecast on OpenWeatherMap so, in the event of the outside temperature increasing, the system responds by adjusting the flow temperature accordingly. This ensures a property maintains a comfortable temperature, while the heating system only uses energy when needed.
Remote access
Modern controls are also compatible with smartphone technology. This enables remote access to a heating and hot water system, which is certainly beneficial for end users, as it allows them to program or turn on a heating system at the touch of a button. Plus, wherever a user is in the world, they are still able to receive any error messages and change the heating and hot water if required, or should they be on holiday, an engineer can be pre-booked for when they return; similarly, should a family member experience a boiler issue, friends or relatives with access to the 'smart app' can pass on the technical information to the manufacturer's customer service department on their behalf. Having the option to share a log-in among a household or family enables others to also check on the performance of the boiler – which is not always possible through third party devices.
Smartphone compatibility then really comes to the fore with features like geofencing, where the user's location determines how the heating system operates. This function (which is available on Navien's range of oil and gas boilers) sees the boiler turning on (or off) depending on an occupant's proximity to their home. It can also be set up across multiple handsets and users, so everybody in a household can benefit from the perfect indoor temperature.
Zone goal
Another efficiency-boosting advantage offered by the latest controls is zoning, which enables precise temperature management throughout different areas of a property – and can even enhance the overall energy rating of a heating system. This provides even greater flexibility for homeowners as, for example, the heating can be set lower in the kitchen than in a lounge, or even programmed to come on at different times across separate storeys. Zoning a central heating system allows for the temperature in each room to be easily and accurately set for optimum comfort; different people can even set the temperature in individual rooms (such as bedrooms) to suit their own preferences.
Whatever controls are fitted to a heating system, it is imperative that installers explain to customers exactly how each one works. Doing so will ensure they understand the full range of operational features and benefits available, as well as highlight the most effective and efficient settings to use. Leading manufacturers will include controls within their training modules, so engineers can ensure they are ideally positioned to explain the many advantages available by attending the relevant courses.
Given the advances in heating technology, installers should be encouraging their customers to utilise state-of-the-art controls, especially those offering high levels of sustainability and cost effectiveness. Knowledge of modern devices will not only enable engineers to explain their advantages to customers, it will also provide opportunities to offer a complete heating system package, as opposed to boilers alone. Furthermore, end users will also benefit from greater levels of energy efficiency, as well as lower fuel bills – all of which makes for a powerful combination.