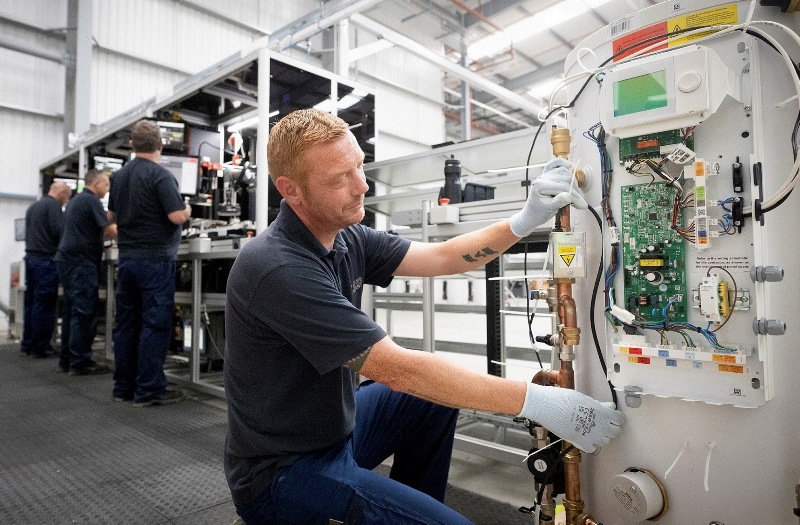 Ideal Heating has launched its first UK heat pump production line as part of an investment in low carbon technologies. 
Lord Callanan, Minister for Energy Efficiency and Green Finance, visited the company's Hull factory to mark the start of heat pump production by the company in the UK. 
The new heat pump production line forms part of a £60m investment programme at the Hull site, which includes an expanded distribution hub, a research and development centre and a heat pump manufacturing facility. 
Shaun Edwards, CEO of Groupe Atlantic UK, Republic of Ireland and North America, said: "The transition to low carbon heating solutions including heat pumps is the biggest transformation in the business since we moved from coal to gas-fired boilers in the 1930s. 
"The major investments we're making at our Hull site send out a very clear signal about our commitment to the net zero transition and to re-modelling our business to meet the needs of our customers today and into the future. 
"For decades the name Ideal has been associated with boilers and other market-leading heating products. With the start of heat pump production and the many other investments we're making, we're now pushing strongly forward with renewable technologies that will play an ever-growing role in heating the UK's homes and commercial premises." 
Lord Callanan's visit to the National Avenue site in Hull marked the start of heat pump production on the site. He also officially opened Ideal Heating's £2.2m National Training and Technology Centre in Hessle, on the outskirts of Hull. 
Jason Speedy, Chief Operations Officer at Ideal Heating, said: "Backed by our parent company Groupe Atlantic, we're excited to be investing massively in our site in Hull, and to establish our new training centre, as we diversify our product portfolio and continue to innovate new technologies."