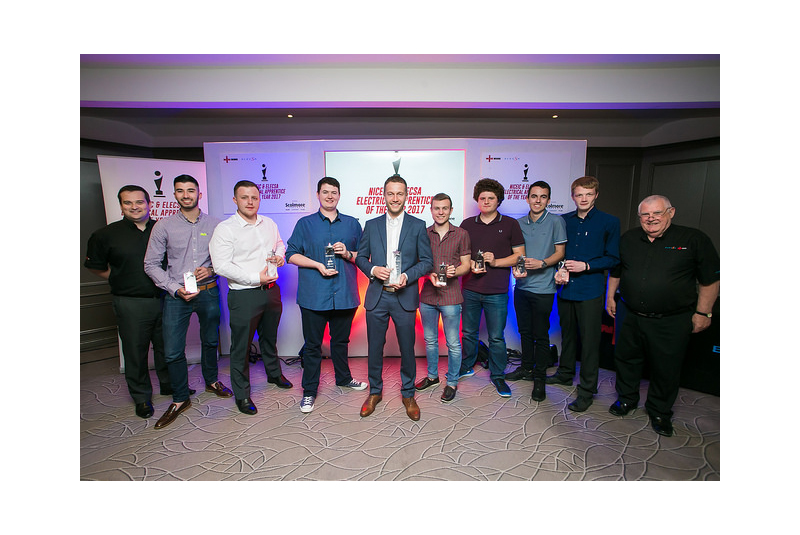 Eight finalists have been chosen to go through to the final stage of the NICEIC and ELECSA 2018 Apprentice of the Year competition.
The final group will have to undertake a series of practical tests at the headquarters of competition sponsor Scolmore on June 5 2018. The winner will be announced during a ceremony in the evening at The Belfry Golf Course and Hotel.
More than 600 students applied to take part in this year's competition, which recognises the talents of electrical apprentices in the UK.
Darren Staniforth, Training Development Manager at NICEIC & ELECSA, said: "The Apprentice competition is now in its third year and the standard just keeps getting better each year.
"We have had more entries than ever, across a diverse range of ages and sexes. The pass rate to make this year's final was extremely high and we can't wait to meet all the finalists and get them started on the concluding tasks."
The final eight are:
Zach Swift from Helensburgh, Scotland. Zach is employed by North Star Electrical and attends West College Scotland.
Ben Vanstone from Somerset. Ben is employed by 1K1 and attends Weston College.
Jonah Edwards from Kent. Jonah is employed by HV Wooding and attends IPS International in Rochester.
Morne Louw from Barnsley. Morne is employed by FSH Maintenance and attends Barnsley College.
Dan Dring from Banstead. Dan is employed by Randburg Electrical and attends Carshalton College.
Patrick Henderson from Falkirk, Scotland. Patrick is employed by Arthur McKay and attends Forth Valley College.
Matt Jones from Bristol. Matt is employed by Mobius Works and attends DCET
James Taylor from Lancashire. James is employed by Bainbridge Electrical and is a JTL apprentice. 
The finalists have already competed in two stages of the contest, which began in October last year. The first stage of the contest was an online exam comprising of a variety of questions relating to electrical installations. The top 20% of performing students then progressed to stage two which was a written hour and a half exam held across eight locations in the UK.
Marie Parry, Scolmore Group's Marketing Director commented: "We couldn't be more delighted to see a 50% increase in the number of entrants to this year's competition.  We are continually hearing about a skills shortage in the industry, but there is certainly no shortage of interest or lack of talent judging by the calibre of the students making it through the various stages.  We are looking forward to another thrilling final and wish everyone who has taken part throughout the competition a long and fulfilling career."
Each finalist will receive an iPad with a host of other prizes up for grabs including a £2000 holiday voucher for the winner, which can be spent on a trip of their choice. There is also a £750 holiday voucher for the runner up and £250 for third place.