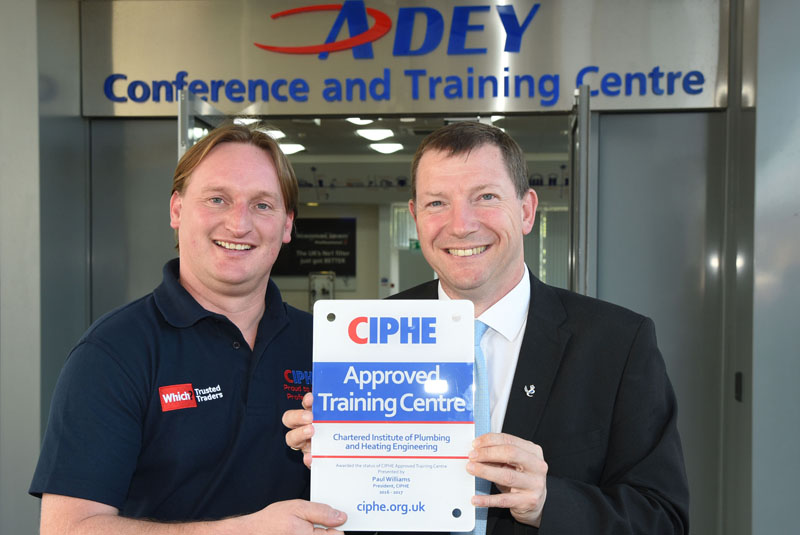 Adey Professional Heating Solutions has received the latest Chartered Institute of Plumbing and Heating Engineering (CIPHE) accreditation for its Training and Conference Centre. The company's state-of-the-art facility was first given the accolade in 2014 and this new plaque presentation extends its Approved Training Centre status for a further two years.
The Training and Conference Centre was officially opened in 2013 following a £1m investment and the refurbishment of its two acre head office site in Cheltenham. The 7,000 sq. ft. facility provides an internal and external conference and meeting venue, as well as the space to host advanced and supervised training on the company's leading range of magnetic filters and premium MC+ chemicals.
Paul Williams, National President of the CIPHE, who presented Adey Chief Executive Officer John Vaughan, with the plaque, said: "To have such a fantastic training venue on site is a real string to Adey's bow. We place great emphasis on training at the CIPHE and it's clear that it's something Adey is passionate about too, whether that's supporting youngsters just entering the trade or more established installers."
"We're delighted that the CIPHE has again recognised our Training and Conference Centre," said John Vaughan. "The site has hosted a huge variety of events over the last three years… It's been a valuable addition to our head office and is a great way to continue to showcase Adey as it has grown."
As a venue used by both Adey and its industry partners, the Training and Conference Centre boasts a boardroom, training and demonstration rooms, test rig laboratory and 100 seat auditorium.