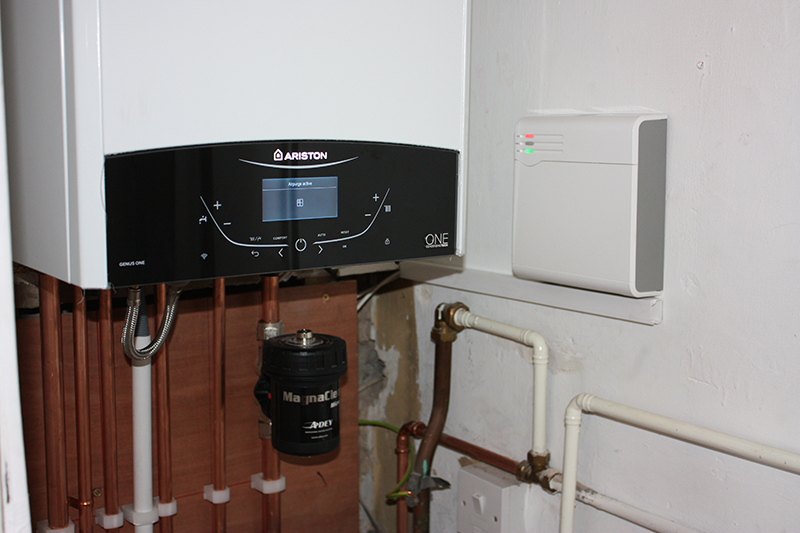 Over 300 Ariston ONE Series boilers complete with Ariston Net smart controls have been installed throughout a wide range of domestic properties in Edinburgh and the surrounding areas by Contract Heating Ltd. The installations were part of a series of gas central heating system upgrades in rented and privately-owned homes that took place throughout a 12-month period.
The two companies have a longstanding working relationship, with Contract Heating Ltd having operated as Ariston service agents in the Edinburgh area for almost 20 years.
In 2018, having operated as agents for several different boiler manufacturers, Patrick Hannigan, Director, Contract Heating Ltd, took the decision to work solely with Ariston. One of the reasons behind Patrick's company opting to exclusively fit Ariston products was the Ariston Net smart control and monitoring system.
Patrick explained: "Our company has always had a good relationship with Ariston. When we first found out about Ariston Net two years ago, we were extremely impressed with its capabilities. Being able to monitor boilers remotely via the Ariston Net portal definitely improves the service we are able to offer our clients. One of the best features of the system is its ability to give early warning of any potential problems before the customer is even aware of them."
Contract Heating Ltd now offers connection to Ariston Net with either GPRS (typically in rented properties) or Wi-Fi connectivity (more commonly in privately owned homes), with each property type accounting for around 50% of the company's business.
Commenting on these different connections, Patrick continued: "The GPRS box connects to the internet via a Sim card (mobile phone network). This is ideal for rented accommodation, as we find with Wi-Fi, new tenants tend to change their contract provider, so lose connection to the internet – which would mean having to reconnect on every change of tenancy."
The sim card is provided by Ariston and comes free of charge with the GPRS unit. No monthly fees are charged on this.
Patrick added: "Details of the features and benefits of the Ariston Net are now included on all our estimates, while we have also added a dedicated section about it to our website. Indeed, since we began offering the system as part of our service, the conversion rate for estimates has increased from around 40% to 70%, which is a fantastic return on investment."
He continued: "The most common issue reported is low pressure, usually in rented properties where tenants often don't know how to fill the system. Whenever this occurs, we are now able to send a sheet of instructions to the tenant without having to attend on site – which saves us time and means there is no call-out charge for the customer."
Patrick concluded: "The combination of the 12-year warranty option and remote monitoring now means that clients only have the cost of an annual service visit – without the expense of a Service Contract."
Ariston Net
Ariston Net has the ability to monitor and control boilers remotely, enabling installers to offer the best possible levels of support. The system is free, with no hidden charges or costs.