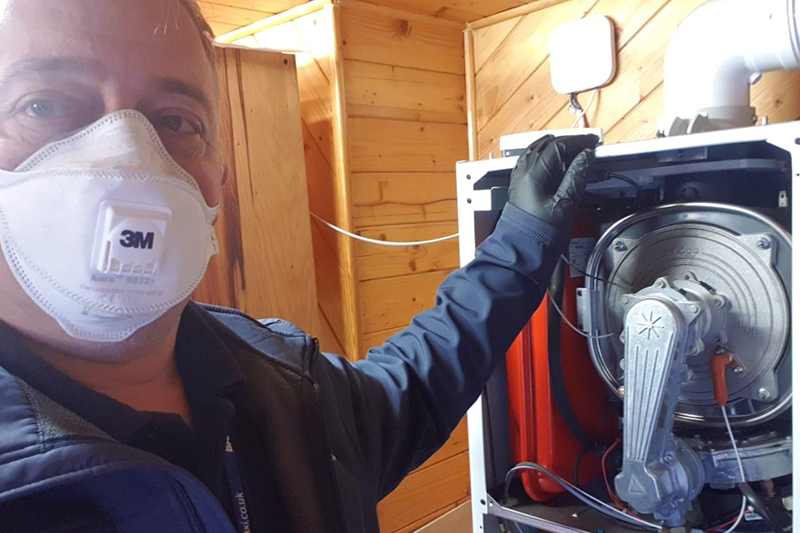 To ensure you are protecting yourself and customers from COVID-related risks, as well as other potential workplace hazards, it is essential to remember the importance of adequate PPE. Chris Riley, National Operations Manager at Baxi, outlines crucial PPE for working in customers' homes.
Following the outbreak of COVID-19, the way we work has changed dramatically, not least for those working in the plumbing and heating sector. Health and safety is of the utmost importance at Baxi, so it is essential that risks are kept to a minimum. On site, plumbing and heating professionals know exactly what PPE to use, however this can be more difficult to discern in a home environment. The following guidelines allow installers to maintain a safe and secure working environment at all times.
From the top
In terms of facial PPE, masks are now more important than ever for a multitude of reasons. The most obvious of these is the increased protection it gives from the transmission of COVID-19. Wearing a mask at all times in a customer's home will help protect you from catching, or spreading the virus. It will also prevent you from inhaling dust and debris, which over time can lead to respiratory issues. Just make sure to not reuse disposable masks and if possible, buy a reusable one which should be washed between uses.
In additional to wearing a mask, protecting your head from concussion – or worse yet severe brain injury – is absolutely vital. While hard hats protect from risk of falling objects, bump caps are perfect for use in customers' homes, where you could hit your head against low shelves, pipework underneath sinks, or beams in the attic.
The same goes for your eyes. If they are not protected from debris or hazardous substances, you could risk serious eye injury or even blindness. By using appropriate safety glasses, you can ensure your eyes are protected from dust chips or flying particles. Safety glasses with complete all-round protection should be used when working with chemicals such as inhibitors to prevent any harmful substances reaching your eyes.
Protecting your body
When leaving your van to enter a customer's home, it's essential to wear a high-vis jacket to make sure you are visible to other road users, particularly in heavy traffic areas. Many tradespeople forget this, which can result in accidents when exiting a vehicle or unloading or loading tools.
During a job, using protective gloves is the best way to avoid cuts, scrapes, punctures, chemical erosion or heat burns on hands. Though most tradespeople understand the importance of gloves, some choose not to wear them as they can limit movement. A good pair of safety gloves will be made with dexterity in mind, so it's important to try on a few different designs and sizes to find the right fit.
Safety gloves also have a cut protection level rating, with one being the lowest protection provided and five the highest. Level five gloves are recommended for plumbing and heating engineers to ensure maximum protection. For heavy lifting jobs such as moving an appliance or heat exchanger, rigger gloves provide the best protection. Arms also require protection, especially when reaching into boiler systems or hard to access spaces to reach pipes, so remember armlets can be worn in conjunction with gloves.
If contact with system water, chemicals or contaminated surfaces is involved in a job, nitrile gloves can also be worn over safety gloves to stop them becoming wet or contaminated. On top of this, nitrile gloves can offer bacterial and viral protection when working in a customer's home – just remember to wash your hands before, after and at regular intervals throughout the job.
Waist down protection
It is common for knee problems to affect tradespeople, especially those who have worked for many years, so investing in preventative PPE measures now to keep yourself healthy is advised. PPE can also help to prevent any existing knee issues becoming worse over time. When working on the floor, knee pads and kneeling mats can help protect your joints and prevent future ligament damage, often caused by repetitive bending and muscle strain.
Safety shoes with steel reinforced toe caps and puncture resistant soles are vital PPE for preventing foot injuries from heavy falling objects and hazards like hidden nails. Often customers prefer shoes to be removed in their homes so always have non-slip overshoe protection covers available, so if you are asked to remove footwear, you can keep them on and protect the carpets at the same time.
Don't risk it
Health and safety while working in customers' homes is more important than ever and, while PPE can protect you from a multitude of hazards and injuries, it is important to keep identifying risks throughout a job. This includes before the job takes place. We recommend speaking to customers over the phone before agreeing to do a job to determine if they, or any of the other occupants at the property, have shown any symptoms of COVID-19, are self-isolating or are classed vulnerable.
If the occupants are healthy and you are completely comfortable, then you can carry out the work with correct PPE and COVID-safe measures in place. Baxi has specific guidance for installers on approaching work in a customer's home during COVID-19. If you feel like you are taking a risk or putting yourself in any danger, you shouldn't agree to do a job; however, following guidelines and using correct PPE will help to minimise risk and ensure the safety of you and your customer while you work.
www.baxi.co.uk/trade/covid-19-update/your-guide-for-safely-working-in-customers-homes