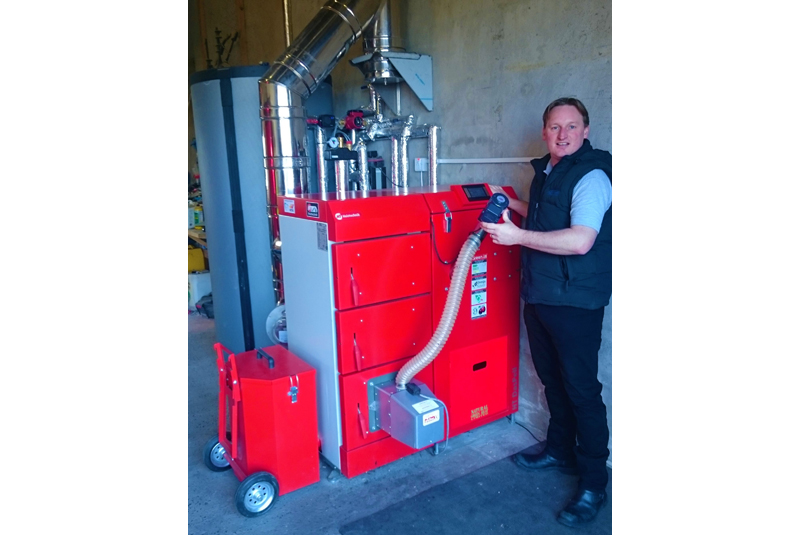 For this month's In Profile, PHPI puts the questions to Paul Williams from Gwili Renewables.
Tell us a little about yourself and your background in the industry? What made you want to become an installer and what was your route into the industry?
I am a plumbing and heating engineer from South Wales and this year I will have been in the industry for 25 years. My father is a plumber and he retired last year. It was working with him over the weekends and getting a good understanding on how things worked that gave me the bug. As soon as I was able, I became his apprentice and attended a local college one day a week. After completing Level 2 I then carried on, under the advice of both my dad and lecturer, to do Level 3 and I was the only one on the course for the first year!
I have, over the years, carried out work on both domestic and commercial properties and completed a variety of work from replacing tap washers to full system design and installation. I have been a lecturer and assessor at two local colleges and that was a great experience.
What do you believe makes your company different from other, similar companies out there? What are the main services you offer?
There are many good companies around at the moment and my main focus is always to try and improve the customer service from my own company rather than be critical of other people making a living. However, the few customers who ask (I wish more did!) can be reassured that I am well educated and trained in the skills required in this trade. I offer what most plumbers do – installation work and maintenance.
What's your marketing strategy for the company? Is social media used and how useful do you find it? Do you have any advice for fellow installers looking to set up their own company and be successful in the industry?
Of course, like almost all tradespeople, I stand or fall on my reputation and rely significantly on the quality of my work generating repeat business from existing customers or new opportunities arising via the power of word-of-mouth.
Having just completed a two-year stint working with the Chartered Institute of Plumbing & Heating Engineering and returning to my dad informing me that he was now retiring, I am just at the beginning of developing a meaningful marketing strategy for my new company. I don't even have the website yet!
My social media use to date has been for personal reasons rather than business development. I have met many wonderful people who have helped me refocus my personal belief on the standards that should be achieved within this industry. There are many groups on Facebook and they are good for advice and tips as well. The only aspect I do not like about social media is the negativity and personal comments that I sometimes see.
I think that I would have three key pieces of advice:
Make sure you have suitable insurance for the benefit of you and your clients
Be professional with your estimates/quotes. Spend extra time itemising them correctly
Always be presentable and courteous to your customers as it is not just this week they will be paying your wages if you do a good job.
You were CIPHE President last year. What was involved in the role and how has the role changed your life? Was there a particular area of the industry you were keen to push?
It was an amazing year – I got to meet so many inspirational people. The role of National President used to be as a figurehead, attending functions within the industry from CIPHE branches to other industry associations. However, whilst still attending these functions I also wanted to devote as much time as possible in taking the message of professionalism to those just embarking on careers in the industry. I spent much of my time meeting staff and students at CIPHE Approved Training Centre colleges, including ones within the public education system and ones being driven by manufacturers. I also focused on the importance of continuing education and development once qualified and working. Innovation in this industry means it moves on very quickly so it was great to support those manufacturers providing valuable and worthwhile courses. Naturally, I attended most exhibitions over the year and had great pleasure in meeting fellow installers.
An area I am particularly keen on is vulnerability. As tradespeople in the plumbing and heating industry going into the homes of consumers, we are often the front line of dealing with them when they are in a vulnerable position. I would love to see the development of education and training for supporting people who are in difficult circumstances when you go to see them. Even information on knowing who to call if you think additional support is necessary would really help the reputation of installers.
What involvement do you now have with the CIPHE? For what reasons would you recommend like-minded professionals to get involved with the Institute?
I still sit on the Board of Trustees (for a few more weeks) and I contribute to a number of technical working groups and projects they run so it is fair to say that I still have a lot of involvement with the CIPHE.
What I can say without a moment's hesitation is that it is filled with people who are dedicated to improving the plumbing and heating industry for everybody involved in it, right through from suppliers to installers to our customers.
Of course, I would recommend the professional recognition that comes with being a member of the CIPHE. Since I first became a member, I have become a Master Plumber, a Registered Plumber and recognised by the Engineering Council. All of this has been achieved through a combination of my own hard work and my membership of the Institute.
Now is a particularly exciting time to get involved as we are on the cusp of launching virtual and augmented reality learning aids and accreditation and, with the CIPHE message starting to get through to consumers, I honestly believe that there will be measurable business benefits for those who join too.
What do you do outside of plumbing?
Like most dads, transport the children around and spend as much time with them as possible. One of my daughters trains for gymnastics approx. 20 hours a week and I help out with the club. If time allows, I like to go to the gym, and I would love to go back surfing this year too. For the past five years, I have been halfway through renovating my house so I am aiming to complete that this year if I still want other people living there with me! Finally, I do like supporting the local economy so try to make time to call in to the local to taste some real ale. And Tuesday between 8pm and 9pm is always #TradesTalk time on Twitter.
You can find Paul tweeting from @GwiliRenewltd