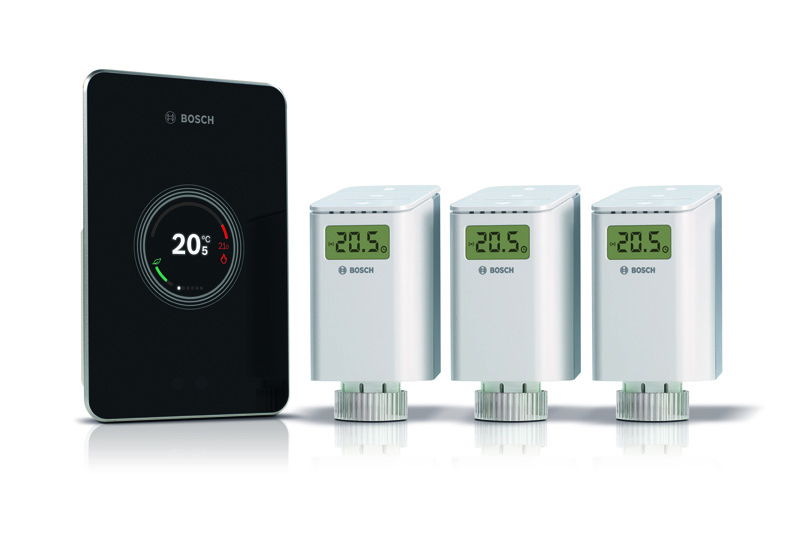 Worcester Bosch has launched a new smart heating and hot water control, capable of meeting not just one, but three of the Boiler Plus energy efficiency measures. The new Bosch EasyControl has been introduced to offer a much more sophisticated way for homeowners to achieve heating efficiency with ease.
In the zone
As its first generation of smart heating and hot water controls with zoning capability, the Bosch EasyControl allows users to change and control temperatures in different rooms of a house for maximum comfort and energy efficiency.
The control replaces Worcester's Wave, and represents a step-change within the smart controls sector by providing a sophisticated, intuitive and attractive solution for users looking to increase comfort and lower their energy bills.
Designed to work via the app, which can be downloaded to as many as 10 different devices per household, the Bosch EasyControl can control heating and hot water from any external location with a web connection.
Smart TRVs
When paired with Bosch Smart Radiator Thermostats (or Smart TRVs), the Bosch EasyControl can split rooms, such as the kitchen and living room, into separate "zones", all of which can be heated individually via the Bosch EasyControl app. This means that users have the option to heat some parts of the house, while switching the heating off for zones that are not being used.
Making Boiler Plus easy
For installers, the Bosch EasyControl not only meets the time and temperature requirements outlined by Boiler Plus, but also ticks the boxes of three of the four additional energy-saving measures. Why cover just one of these measures when you could be covering these three?
Load compensation – the BoschEasy will automatically adjust the temperature of the heat going to the property's radiators. When the property is cold, the temperature going to the radiators will be high; but as the room warms up and less heat is needed, the control will lower the temperature supplied by the boiler to the radiators. As a result, comfort is maintained but energy use is reduced.
Weather compensation – by monitoring the local weather conditions using wifi, the EasyControl adjusts the temperature of the hot water going to the radiators. If the temperature outside drops, radiators will run hotter. If the outside temperature is milder, the boiler will be told to supply less heat, boosting energy efficiency and lowering bills.
Automation and optimisation – by pairing with eTRVs, the EasyControl effectively splits a house into different heating zones, which really does optimise heating performance. Combine that with how many of its adjustments are made automatically, and installers can really offer a heating system which will be smart in every sense of the word.
Better still, thanks to its 5% uplift in (ErP) efficiency when paired with Smart TRVs, a system comprising an EasyControl and a gas fired combi boiler, such as a Greenstar i, can achieve a package label efficiency of up to 99%.
Additional energy-saving features available on the app include on-screen displays that monitor humidity and energy usage, and presence detection, which is able to monitor an occupant's proximity to the home, and update comfort levels accordingly.
All data is kept on the device, which minimises any security risks associated with cloud storage. This also means that the device can continue to work, even when offline.
The hardware itself is designed to fit easily via a wall-mount, which is also interchangeable with an existing Wave installation. It is designed to look attractive and modern, with a full-front, glass touchscreen, digital colour display, metal-effect framing detail and ambient backlighting.
To find out more visit worcester-bosch.co.uk/easy.