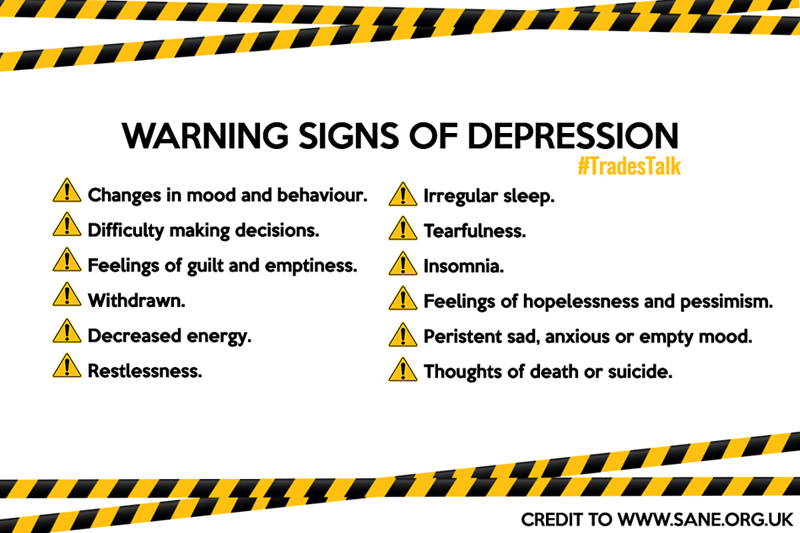 This week's #TradesTalk discussion on Twitter was on the very important topic of mental health, and how to seek support if you think you need it. It was an incredibly busy chat with loads of tradespeople joining in with their stories, so here are some of the highlights.
The first question looked at the warning signs to watch out for, with some advice from SANE as well as the #TradesTalk community.
These are some of the key signs, according to @CharitySANE #TradesTalk pic.twitter.com/ulh1eSgqHP

— #TradesTalk (@TradesTalk) March 19, 2019
I think that's the scary thing about mental health, there's no physical signs someone is in distress, it's invisible and people tend to think there's nothing wrong so they don't talk about it, but talking about it is the first step to recovery #tradestalk

— Keith Harrison (Harrisons Of Burwell) (@HarrisonHeating) March 19, 2019
Raised heart rate, sudden sweating, racing mind, uncontrollable energy #TradesTalk

— Richard Colby Richard Colby Plumbing & Heating Ltd (@r_colby_85) March 19, 2019
Mood swings
Feeling down
Unsociable/withdrawn
Extreme worrying/fear

— Glennon Plumbing Services Ltd (@GlennonLtd) March 19, 2019
Then the discussion moved on to where you could seek support, and although many people said they talk to family and friends, the importance of professional help was also highlighted.
Q2 If you don't feel comfortable talking to a friend or family. Please find SOMEONE & don't bottle it up or "Man-up". I've got dead friends that did that & their families are left suffering. Talk, PLEASE talk. #TradesTalk GP https://t.co/YCkBmvLJbe

— Jobman Workwear (@jobman) March 19, 2019
A2. Depending on severity, someone I could trust to get something off my chest, otherwise I'd contact a professional if I knew I needed to take corrective action. #TradesTalk

— Elizabeth (@Liz_365concrete) March 19, 2019
Unfortunately a lot of time people suffering don't have many people around them, it can be difficult for people suffering that don't have friends around to try and open up to, and also you find that people are to proud to reach out for help

— Rumac Plumbing and Heating (@Craigow37236005) March 19, 2019
Family and feel like I could talk to people on here even though lot o haven't met everyone but most are very welcoming and helpful and have good experience in this #TradesTalk

— Lloyd Stafford (@lloydlwlheating) March 19, 2019
The third question looked at whether working in the construction trades can make mental health issues more likely.
A3 definitely. The nature of the hours and with some people all the time away from home takes an unseen tole. Too many hours adds up to not enough time to look after yourself.

— Ellen (@EllenPlumber) March 20, 2019
https://twitter.com/GasSafePete/status/1108104188624404480
A3 the loneliness, before twitter the only people I had to talk to about work and have a laugh with was my wife and people in the pub. My wife doesn't understand what I'm talking about half the time. We are also expected to act like MEN. We can't be weak #TradesTalk

— S.N.L Home Repairs (@snlhomerepairs) March 19, 2019
Next we discussed whether social media is  good or bad when it comes to mental health.
Q4, depends how you use it. Can be very supportive. But it's also essential to put devices down and engage physically with the world & those around you. Walking, swimming, sunshine, hugs, all trigger the chemicals in our brains that help more positive mood. #TradesTalk

— PlumbMaid (@plumbmaid) March 20, 2019
Q4. I think it depends on how you use it don't be false and be positive and be there for anyone and everyone good or bad! #postivevibesonly

— VIVA Sanitary (@vivasanitary) March 19, 2019
What can be done by society to help men with mental health issues?
A5. Mental health should be seen as a health issue just like a broken wrist, a bad back or a cancer diagnosis
People have to get past 'mental' being a negative that's not to be talked about
Our brain health is as important as our heart health #TradesTalk#KeepTalkingMH

— Barraboy (@SamArmstead) March 19, 2019
Maybe teach about it in schools? Not as a subject/lesson, just once every so often for the older high school kids, so in adult life if ever they experience difficulty then they have something to draw from? #TradesTalk

— Pete Brown 🚿🛠🔥 (@GasSafePete) March 19, 2019
A5 the hashtag #ItsOkNotToBeOk is something I follow and have been meaning to put in my bio, if anyone ever needs to talk about their feelings, what's going on in their life or fancy a distraction from it my DM is open #TradesTalk

— Liam Bielby (@BielbyLiam) March 19, 2019
If you need advice, the NHS has a comprehensive list of helplines
If you'd like to suggest a topic for #TradesTalk please do send a DM on Twitter, Facebook or Insta.