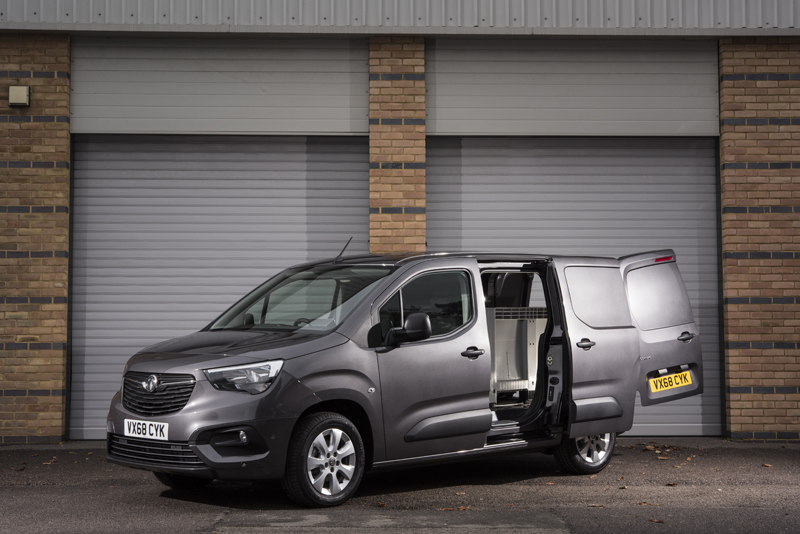 Terry Smith takes a trip down memory lane and ends up in the fast lane of an LCV superhighway.
Hands up all those that remember the Vauxhall Astra Max. Like us, you are clearly older than you look, because amazingly it was way back in 1986 that it celebrated its much-anticipated launch within the highly popular Bedford van family. Through its subsequent evolution into the Combo in the nineties, and various upgrades and facelifts throughout the noughties, it has all culminated in the recent unveiling of the new, fifth-generation, small compact van offering.
Today of course, Vauxhall is no longer going it alone, having become part of the massive PSA Group brand in 2017. This group incorporates old adversaries Peugeot and Citroen, whose Partner and Berlingo versions respectively complete what would have once seemed an extremely unlikely threesome.
Already named 'Van of the Year  2019' at the IAA exhibition in September, the pressure to deliver an exemplary  test drive was therefore uppermost in the minds of the assembled journalist throng, who give little truck to sentimentality. As it happens, praise was pretty fulsome at the event, with the general consensus that this vehicle is a considerable improvement on its predecessor – in all aspects.
At its core is a switch to the PSA running gear, which combines a passenger car modular front chassis to an upgraded commercial vehicle rear chassis. A distinctive new squarer shape provides a small van with big ideas, such as the possibility to get up to one tonne of cargo in the back, a loading volume of 4.4m3, a loading length of 3.4m and a cab which is one of the most spacious and storage friendly in its class. And, thanks to a van first, a sensor based load indicator offers a preliminary warning if the weight exceeds 80% of the permitted load. This is followed by an orange exclamation signal for anything unlawful, so that the  driver can rest assured that they  are always operating within legal limits.
The new Combo has a number of features which reflect the attention the PSA design boffins have given to the everyday requirements of potential customers. As well as a low floor for easy access and wide rear doors to load two Euro pallets, tradespeople in particular will appreciate the Flexcargo option, a clever package which features a bench seat easily adaptable to a variety of usages. The passenger seat folds down for extended cargo length, or folds up to enable safe cargo storage of 500 litres within the cabin. The system features an electric, rather than floor mounted park brake, ensuring a wider and more comfortable middle third seat, which can be folded down to reveal a mobile office table. A sturdy bulkhead with or without a window separates the load area from the cab, whilst   another potentially useful option is a built in roof flap.
The Combo will be available in two lengths and one roof height, and there's also a five seater crew van. A choice of three trims are offered; the basic Edition plus Sportive and LE NAV which bump up the kit for smaller business users, although there are plenty of different options, including an additional sliding door, to meet most requirements.
As you would expect, safety has been prioritised and a special pack will provide lane assist, traffic sign recognition, a tiredness alert and automatic emergency braking with forward collision alert. Fortunately, this did not have to be put to the test on our test drive through the rolling Bedfordshire countryside! Rear view and passenger side door mirror cameras aid in blind spot detection.
As far as engine size goes, the initial launch is confined to diesel powertrains, comprising a 1.6 Turbo D badged either 75 or 100ps. The newer 1.5Turbo D 130ps is also an option, with five and six speed manual gearboxes and an ultra-modern eight speed auto. Various petrol derivatives are set to be introduced later in 2019.
The IntelliGrip Pack switchable traction control will help with low grip surfaces but naturally falls well short of a four wheel drive capability. Again, with building sites in mind, a special construction pack provides under ride protection, thanks to a sump guard and special mud and snow tyres for added grip. The chassis height is also increased by 30mm.
Inside, the highly versatile and comfortable seating arrangements are enhanced with four-six way adjustment, whilst three occupants can also sit comfortably abreast thanks to a two seater bench. Both the passenger and  driver can enjoy heated seats on those cold winter days and there is even the option of a heated steering wheel – modern day refinement all set for another Beast from the East, it seems!
According to the manufacturers, fuel economy has been improved by around 16%, with the new models offering up to 67.3mpg and segment leading emissions from 109g/km. All important infotainment is provided by Applecar Play and Android Auto via an eight inch colour touchscreen.
The small van class is certainly not short of  very worthy options, with around 85,000 sales in the UK alone last year, but few clearly have the potential to spec the van with as much or as little kit as you like, utilising the special pack options. By listening to their customers and taking such concepts on board, it would be fair to say that Vauxhall now has a small van offering which will surely prove a winning Combo in more ways than one  in the coming years.
Prices start from around £15,630 excluding VAT, rising for top of range LE NAV to £18,950. To find out more, head to www.vauxhall.co.uk/range/vans