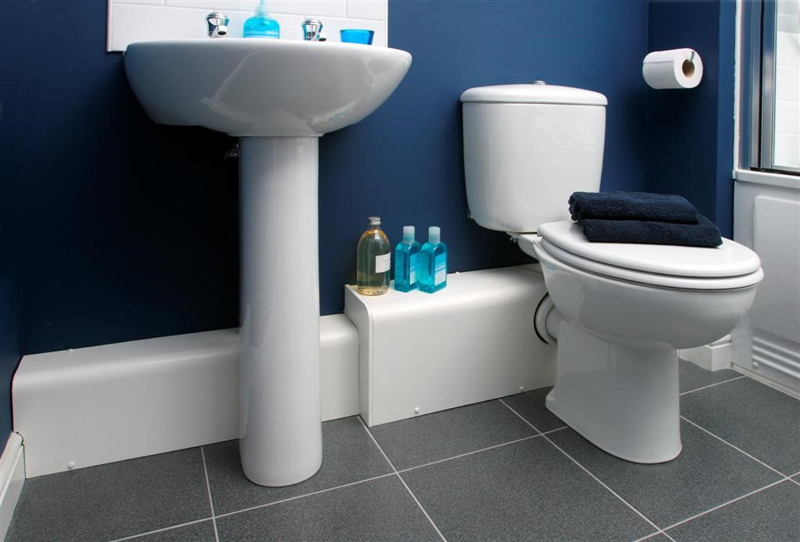 Whether an installer is refitting a bathroom or replacing a central heating system, there's always the associated pipework to manage too. And no matter how neat this is, some customers will always want it concealed – commonly known as 'boxing in'. Richard Braid, Managing Director of Pendock, explains why using pre-formed pipe boxing is a simple and cost-effective solution.
For plumbing and heating installers, fitting pipework goes hand-in-hand with the products they install. And, whether this is hot and cold feeds to taps and showers, soil and waste pipes, or the gas supply and flow and returns for a central heating system, how the pipework is managed can often make or break a job. However, because installers are not always in control of where items such as showers and boilers are sited, pipework layouts can become lengthy and complicated.
For example, when a homeowner decides to refurbish their bathroom, they might already have a design in mind before they speak to their installer – perhaps without considering that moving fixtures and fittings around will affect the pipework layout. And, while it makes practical and financial sense to keep existing plumbing lines, the customer might still opt for a complete reconfiguration. There could be many reasons for this; they might want a modern wet room, or they might be making the space more accessible for an elderly or disabled family member. Of course, the reason might simply be that the bathroom layout wasn't well-designed in the first place.
Boiler pipework can be equally challenging. The regulations surrounding high efficiency boilers and flues largely dictate where boilers can and can't be sited, and central heating pipework has become more complex than perhaps was the case in the past. And, again, the homeowner might have their own ideas about where they want their boiler to be located.
Keeping the customer happy
Of course, many installers take just as much pride in the installation of their pipework as they do in fitting sanitaryware or a boiler – and will spend time ensuring it's tidy enough to be on display.
However, while some homeowners will be happy to leave pipework exposed (perhaps if they want to create an industrial or vintage feel), others will regard it as unsightly, and will want it covered over – known as 'boxing in' – for a neater look. Boxing in also protects pipework from damage, and, if the installer is working in a health or social care environment, it's also likely to be a safety requirement, with the surface temperature of exposed pipework posing a burn risk for vulnerable people.
Some installers will decide to pass boxing in work onto a carpenter or joiner. However, this means the installer will lose revenue, and it will potentially cause delays for the customer. Using another tradesperson is also a risk; the installer's reputation could be damaged if the customer is left unsatisfied with the results.
Installers that want to keep control of the work (and the associated profit) might choose to fabricate their own solutions on site. This typically involves sourcing lengths of wood or MDF, cutting it to size, gluing it around the pipework and priming and painting it. This takes time – and is therefore costly, delays completion and inconveniences the customer. The results can also be inconsistent, especially if carpentry and decorating aren't natural skills.
Solving the problem
However, there is an alternative option that reduces the hassle and costs associated with boxing in. Made-to-measure, pre-formed pipe boxing can be easily fitted by installers, and effectively conceals and protects lengths of pipework (as well as any cabling) running along walls, skirting boards and ceilings. It can be fitted horizontally, vertically and in corners, while pipe casing is designed to wrap around the pipes beneath a boiler.
These solutions offer a cost-effective, quick way to conceal pipework – we estimate it takes at least twice as long to fabricate boxing in sections on site – and installers can achieve a neat, consistent finish without the need for any decorating or carpentry skills, or reliance on other tradespeople.
If pipework needs to be accessed in the future, pre-formed solutions can be easily removed and refitted (it might not be so straightforward to remove boxing in that was fabricated on site without causing damage and refurbishment costs) and can also be fitted with access panels. Similarly, boiler casings provide full and easy access to the pipework and underside of the boiler for future repair and maintenance work and annual servicing.
Manufactured in Britain, Pendock's hardwearing encasement products cover and protect soil and waste pipes, water supply pipework, heating services and cabling. Our solutions are available in a range of sizes and colours in pre-formed wood or metal, but bespoke products can be made to order.
While some customers will be happy to keep plumbing and heating pipework on display, many will want it concealed for aesthetic or safety purposes. Some installers choose to subcontract the work or fabricate their own boxing in solutions, but a more cost-effective, quicker option can be the use of pre-formed pipe boxing, which can be easily fitted by the installer and provides a neat, consistent finish.