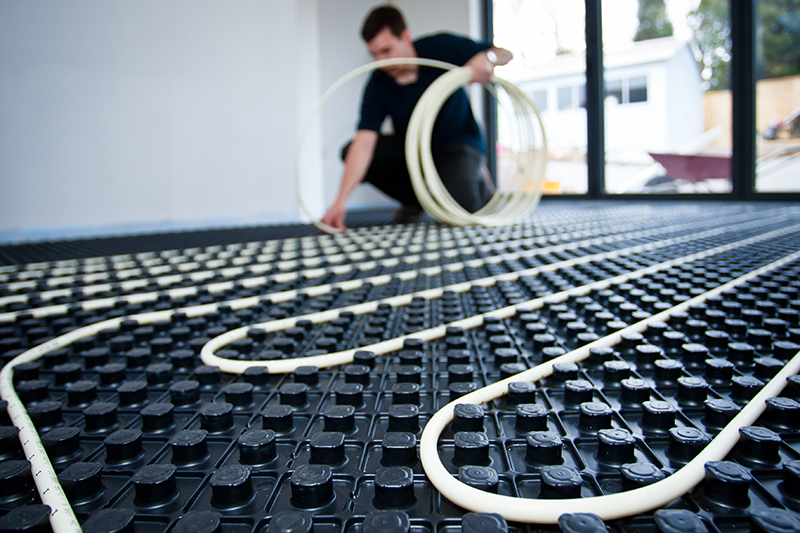 Following the introduction of the Government's plan for a Green Industrial Revolution, David Roberts, MD of Nu-Heat, highlights three areas in which action must be taken to meet the challenge. 
The UK has set the ambitious target of reaching net-zero emissions by 2050. It's a huge task that will require reform in a large number of areas. However, with around 15% of the country's greenhouse gas emissions attributed to residential buildings, it is one that certainly calls for a rethink in how we heat our homes.
A 'wrap then heat' model of simultaneously tackling energy demand and supply would provide the best angle to tackle a challenge of this scale. Substantial strides in reducing emissions from the production of electricity in the country through off-shore wind and solar have paved the way for reducing emissions on the supply side for electric heating. However there is still work to be done on the demand side with over seven million solid wall and five million cavity wall properties that could be further insulated, many of them cost-effectively.
Improving the energy efficiency of homes not only makes sense in the effort to improve decarbonisation, it also helps to address energy poverty. The lower running costs of heating homes that are sufficiently insulated and running on efficient heating sources such as heat pumps means lower energy bills for consumers, however this depends on homes being built to be renewables ready and energy efficient from the start.
Other European countries have already started seeing the benefits of adopting energy efficient heat pumps as a heating technology. In Sweden, heat pumps have a 91% market share against boilers (as a % of combined sales), France and Denmark have similarly supported mass-market uptake of heat pumps, which operate with very low emissions.
The challenge then for the UK, is to create a system that supports change at all levels, and makes the transition to energy efficient heating systems in homes as seamless as possible.
1 Reduce the temperature of heating systems installed in the UK
The Future Homes Standard talks about flow temperatures of 55 degrees, but this doesn't go far enough. Turning down the heat to 45 degrees saves a further 0.5 tonne CO2 per property and across 250,000 new build homes per year, if even half have underfloor heating systems and air source heat pumps installed, those properties would save an additional 55,000 tonnes of CO2 over 18 years. Low temperature heating, like underfloor, will give us this by default.
2 Support installers through clear standards and training
We've got an amazing plumbing and heating trade in the UK – we trust them in heating in our homes. The plan talks of 50,000 new jobs, but what is really needed is government support for the 130,000+ Gas Safe Registered installers we've already got.
We need to help them make the transition from gas to heat pumps through funding for training, regulation, and access to support schemes, like the one Nu-Heat provides.
We'll need qualified people to both install, service and maintain these low carbon systems.
3 Educate a fabric first approach
Missed opportunities in building regulations mean that high temperature heating systems are being installed in homes that just don't need them. It's essential that both the market and consumer understand the need to wrap and then heat. A fabric first approach to both new builds and renovations.
Getting supportive regulation for heat pumps in new-build properties right is important, as this is where the technology is immediately cheapest to install and typically most cost-effective. A thriving mass-market for heat pumps needs a healthy installer-base and supply chain to sell renewable heating technologies and install systems. The heat pump industry sees new-build properties as an important first step for wider adoption of the technology in the UK.
Can we do it though? I think we can. Businesses, families and governments across the globe throughout this COVID-19 pandemic have proved how good we can be at taking action in crisis and just how much can be achieved in a small amount of time.
Before we entered this public health crisis we were – and still are – in the midst of a climate emergency.
The biggest challenge? This has to be building a trained and certified low carbon heating workforce who are strong enough in number to meet the demand and confident enough to grow the public's trust. We at Nu-Heat are going to do everything we can to help to make this happen.